World Athletics Championships: Mo Farah aims for historic 'double-double' in Moscow
Mo Farah will try to seal his place in the history books on Friday when he goes for gold in the 5,000m in Moscow.
Last Updated: 16/08/13 6:05pm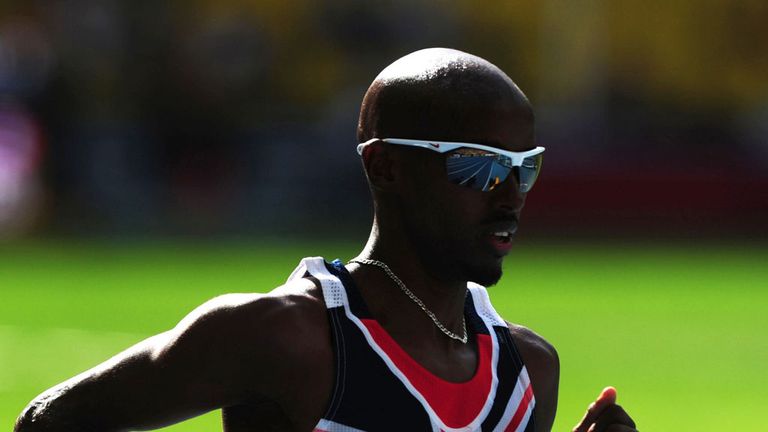 He will attempt to emulate Ethiopian legend Kenenisa Bekele and hold the 'double-double' - the Olympic and World 5,000 and 10,000m titles at the same time.
He won the 10,000m on Saturday - the first British man to do so - but the shorter distance promises to be a tougher challenge.
Farah qualified for the final in fifth place, but he is one of just two men in the final who competed in the 10,000m as well as the 5,000m.
Kenya's Edwin Soi is the world No 1 and the only man to beat Farah over 5,000m this year, whilst there are two top class Ethiopians in Hagos Gebrhiwet and Yenew Alamirew.
All three have run much faster than Farah this summer, though the Briton has proved in the past that he is the best tactical racer around.
'Against the odds'
UK Athletics head of science Barry Fudge said Farah has it all to do to match the feat of Bekele, mainly because he has already put his body through so much in winning the 10,000m.
"If Mo wins a medal on Friday night he's going against the odds basically," Fudge said.
"The media will probably build him up, but it is a long shot. You don't really know what's going to happen, how his body's going to respond.
"He will be a massive favourite, but it's never easy. Those guys are going to go hard. We just do everything we possibly can and hopefully he'll be on that start line in as best shape possible.
"I think as much as anything it's the damage to the legs from the Mondo track, it's incredibly hard," he said. "Running a 10,000m is hard obviously, but it's the damage of 10,000m on a Mondo track.
"Most people wouldn't do it. Most people can't. It's hard. People just see him turn up in a stadium and run the race and go, 'Wow, that's incredible'. But what actually goes in to getting you to that point is a massive, massive achievement."