Jamaican sprinter Veronica Campbell-Brown cleared to continue career
Jamaican sprinter Veronica Campbell-Brown has been cleared to continue her career by the Court of Arbitration for Sport.
Last Updated: 24/02/14 4:00pm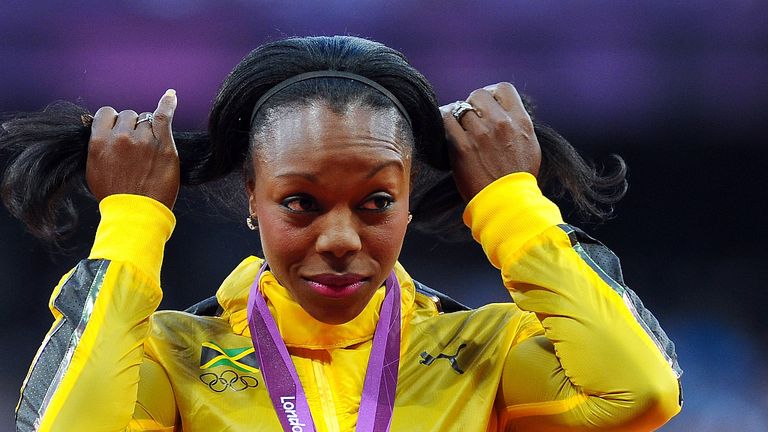 Campbell-Brown won 200m gold at the Olympics in both Athens and Beijing but tested positive for a banned substance in May last year at the Jamaica International Invitational.
In a statement released by her management company, OnTrack Management, Campbell-Brown said: "The final court available to us as athletes have spoken and humbly I say they have confirmed my innocence."
Campbell-Brown added: "I harbour too much self-respect and a similar respect for the purity of competition to resort to illegal means to success.
"This same self-respect will now enable me to leave behind the insensitive and ill-informed media remarks and look towards returning to the track to give of my best to God's glory."
She said the past few months have brought "much pain and suffering".
Campbell-Brown was provisionally suspended in June by the Jamaica Athletics Administrative Association, which gave her a public warning in October.
Resume career
The sprinter had to wait for the IAAF's verdict before she could resume her career, though, and it has emerged the world governing body handed her case to CAS.
Campbell-Brown has arguably been the biggest star of women's sprinting over the past decade.
During that time she has won seven Olympic medals in all, and been crowned world champion in both the 100m and 200m, taking the latter world title in Daegu in 2011. The drug allegations prevented her from defending her title in Moscow last summer.
In the London Olympics last year, she won silver in the 4x100m relay and bronze in the 100m.
"Yes, I lost out on the opportunity to compete for most of 2013 and the chance to defend my World 200m title, however, I press on. Dr Martin Luther King Jr spoke of the redemptive quality of unearned suffering and I must say I am redeemed," said Campbell-Brown.
"I would be remiss in not thanking the IAAF for expeditiously handing my case to the CAS."
She added her focus was now on "moving forward" with her "career and philanthropic efforts".
She could return to the world stage at next month's World Indoor Championships in Poland and could also appear at the Commonwealth Games in Glasgow in July.
The decision is also a boost to Jamaican athletics, which was dogged by drug allegations last year.
Asafa Powell, the former 100m world record holder, and Sherone Simpson both tested positive for the banned stimulant oxilofrine and have been suspended since. The pair are still waiting to find out what sanctions they will face.