Oscar Pistorius has pleaded not guilty to the murder of his girlfriend
Oscar Pistorius' trial began with the athlete pleading not guilty to the murder of his girlfriend Reeva Steenkamp.
Last Updated: 03/03/14 3:40pm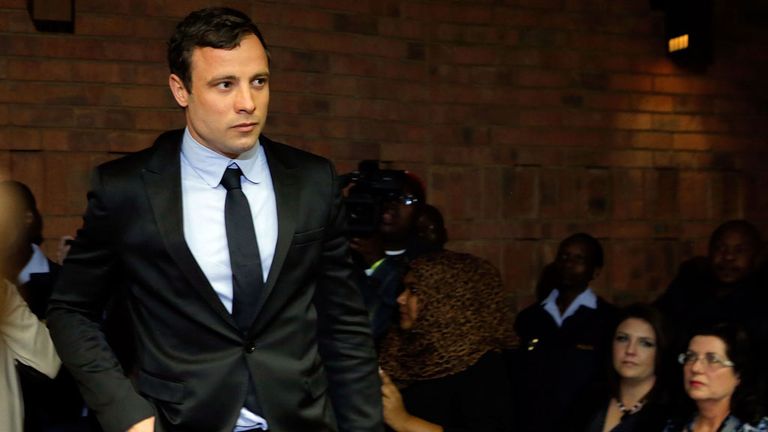 After a state prosecutor read out a charge that Pistorius 'unlawfully and intentionally did kill girlfriend Reeva Steenkamp', the sprinter responded 'not guilty, my lady'.
The trial started 90 minutes late with Pistorius entering the same plea against all four charges - murder, two charges relating to discharge of firearm in a public place and one charge of illegal possession of ammunition.
Before the trial started he walked past the victim's mother who claimed one of her main reasons for attending the court was to 'really look him in the eyes'.
Double amputee Pistorius, dubbed the "Blade Runner", shot Ms Steenkamp dead at his home but claims he thought she was an intruder.
The trial, at the North Gauteng High Court in Pretoria, is expected to hear from more than 100 witnesses, including neighbours and ex-girlfriends of the 27-year-old athlete.
Much of the trial will be broadcast live and with media coverage at frenzied levels, one 24-hour channel has been set up in South Africa exclusively to follow the trial.
Statement
Pistorius is accused of the premeditated murder of 29-year-old Ms Steenkamp, who died of multiple gunshot wounds.
Prosecutors allege he shot the model and reality TV star four times through the locked bathroom door at his home in Pretoria in the early hours of 14 February 2013.
Pistorius claims he thought an intruder had entered his home, but prosecutors say that even so, an "error in persona" did not affect the fact he intended to kill someone.
Ms Steenkamp's close friends Desiree, Gina and Kim Myers, as well as Pistorius's sister Aimee and his uncle Arnold, are among the 107 witnesses listed by the state.
On the anniversary of Ms Steenkamp's death, Pistorius made a statement on his website saying: "No words can adequately capture my feelings about the devastating accident that has caused such heartache for everyone who truly loved - and continues to love Reeva.
"The pain and sadness - especially for Reeva's parents, family and friends consumes me with sorrow.
"The loss of Reeva and the complete trauma of that day, I will carry with me for the rest of my life."
The mandatory sentence for an individual convicted of premeditated murder in South Africa is life with a minimum of 25 years in prison.
Sky News are providing full coverage of Oscar Pistorius trial.