Jamaican athletes Sherone Simpson and Allison Randall suspended over positive tests
Jamaican athletes Sherone Simpson and Allison Randall have been suspended after failing drug tests last June.
Last Updated: 08/04/14 8:28pm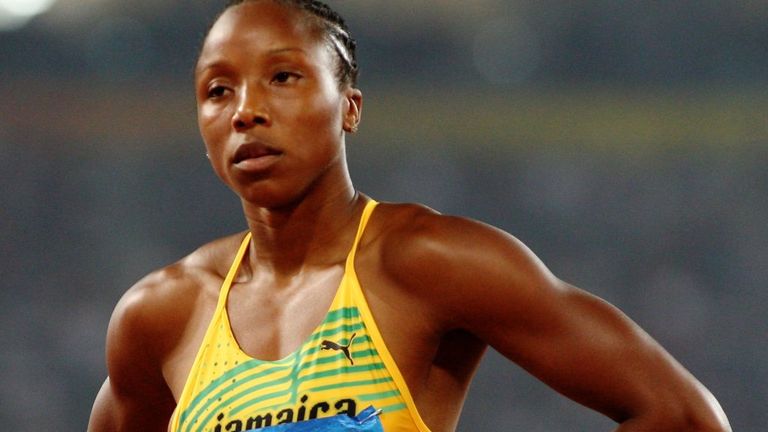 Simpson, the 2008 Olympic 100 metres silver medallist, has received an 18-month suspension from the Jamaica Anti-Doping Disciplinary Panel.
The 29-year-old, who won 4x100m relay gold in the 2004 Olympics and silver in the same event at the 2012 Games, tested positive for the stimulant, oxilofrine.
Simpson said the substance was found in a new supplement given to her by Canadian physical trainer Chris Xuereb.
Her agent Paul Doyle branded the suspension "unjust" and said Simpson would appeal.
"We feel that this ruling is incredibly unjust and we will be appealing to the Court of Arbitration for Sport immediately," he said in a statement.
Doyle added: "Sherone took a legal supplement that was contaminated with oxilofrine. Two different labs that we commissioned to test the supplement both determined that oxilofrine was present and that it was not declared on the label."
He added: "Typically in such a case, the athlete is given a punishment ranging from a public warning to three months of ineligibility."
Olympic discus thrower Allison Randall has been suspended for two years after testing positive for a banned diuretic.
The 25-year-old, who holds the Jamaican discus record with a distance of 61.21m, tested positive for hydro-chlorothiazide - which reduces blood volume.
Former men's 100m world record holder Asafa Powell was one of three other Jamaican athletes to fail tests last June when he tested positive for the same stimulant as Simpson.
Powell will learn his fate on Thursday.