American sprinter Tyson Gay accepts one-year ban after failing doping test
Tyson Gay will be allowed to return to competition next month after accepting a one-year ban for a positive drug test.
Last Updated: 02/05/14 11:22pm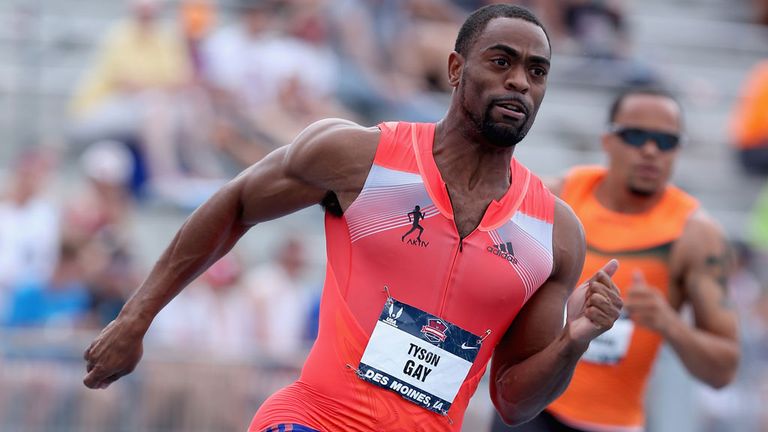 The 31-year-old former world double sprint champion admitted last July he had failed an out-of-competition test, and he could have faced a two-year suspension for his first offence.
However, the US Anti-Doping Agency (USADA) reduced his ban to a year because of his substantial assistance into the investigation of his case.
"We appreciate Tyson doing the right thing by immediately withdrawing from competition once he was notified, accepting responsibility for his decisions, and fully and truthfully cooperating with us in our ongoing investigation into the circumstances surrounding his case," said USADA chief executive Travis Tygart.
Gay, the joint-second fastest man in history and the American 100m record holder, was banned for a year from June 23, 2013, the day his sample was collected at the USA Outdoor Track & Field Championships.
He was also disqualified from all competitive results since July 2012 and as part of his forfeiture he has returned the silver medal he won with the US 4x100m relay team at the 2012 London Olympics.
Gay, who won gold in both the 100m and 200m at the World Championships in Osaka in 20027, will be eligible for future World Championships and Olympics.
However, an investigation into the circumstances of his case is ongoing and his suspension is subject to appeal by the International Association of Athletics Federation and the World Anti-Doping Agency.
The International Olympic Committee said it was satisfied with the punishment handed out to Gay.
"The IOC welcomes the decision taken by USADA following the confession of Tyson Gay," read a statement.
"We note the athlete accepted responsibility for his actions and returned the medal from the London Olympic Games.
"The IOC supports clean athletes and defends the integrity of sport against those who cheat. We will take all necessary steps with regard to the Olympic Games in line with our zero tolerance policy, and our full commitment to the protection of the clean athletes."