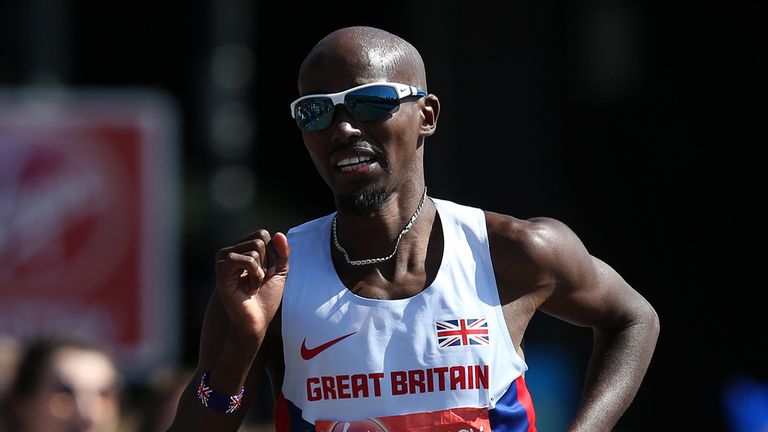 Mo Farah has revealed for the first time the full story behind his withdrawal from last month's Commonwealth Games.
Farah had originally pulled out of the England team citing a lack of fitness after suffering from illness in the wake of his disappointing marathon debut in London in April.
However, Farah explained, on his arrival in Zurich for the European Athletics Championships, that his Glasgow absence was because he collapsed and knocked himself out on a bathroom floor and spent four days in hospital.
"I basically had a tooth taken out because it was chipped and it got infected," said the double Olympic champion, who will contest the 10,000m on Wednesday and the 5,000m on Friday.
"I was in a bit of pain, but went for a run, and when I came back I literally collapsed on the bathroom floor, completely knocked out.
"I had my phone in my pocket, so when I woke up and became conscious I called Cam Levins, my training partner - the Canadian guy who came third in the 10,000m at the Commonwealth Games - and he came round and got me onto my bed. 
"I was in so much pain from my stomach, and so he called an ambulance and it took me to hospital. I then had to be airlifted to the main hospital as they thought something was going on with my heart.
"It was just crazy. I was in hospital for four days and it was scary, but these things happen.
"I missed quite a lot of running. I would have loved to have come back and continued the road to the Commonwealth Games. I didn't want to disappoint my fans and all those who had bought tickets, but I just wasn't ready. I was nowhere near ready."
Farah was examined by the medical staff at British Athletics and passed fit to resume training at his high altitude base at Font Romeu in the French Pyrenees. 
"I was doing a track session and Paula Radcliffe was timing me and she told me I should stop," he said.  
"When someone like Paula tells you to stop, you know there is something wrong. 
"And I just wasn't right. She could see that. It took a lot out of me. 
"Later on, Paula said I'd taken the easy option [in withdrawing from the Commonwealth Games], which is not fair as she'd seen me struggle. I was quite disappointed, but in myself, Mo Farah, if I'm going to turn up I have to be 100%.  
"I'm not going to turn up in my home country and get beaten. A lot of those Kenyan guys I can beat when I'm 100%, but if I'm 80% or 90% I'm just asking to get beaten.
"For all the people who bought tickets, I am genuinely disappointed I couldn't take part. But I'd been through a lot. I just wasn't ready.
"I've done a lot of training since then. I'm two weeks further on, and I'm in decent shape now."