European Athletics Championships: Will Sharman claims silver for Britain in 110 metres hurdles
Last Updated: 15/08/14 5:22pm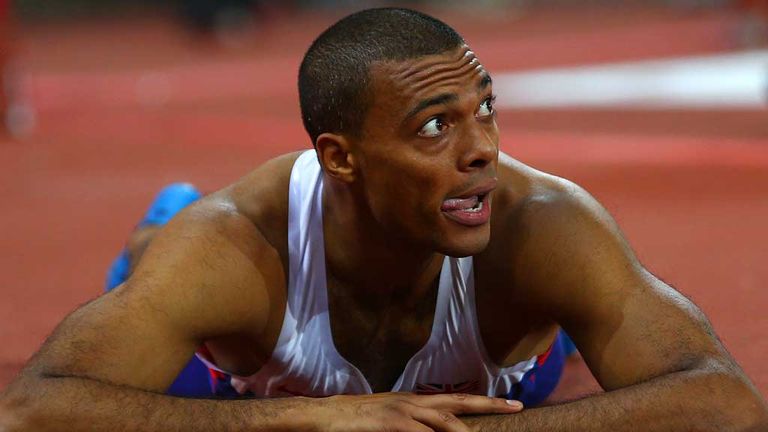 Will Sharman repeated his Commonwealth Games result with a silver medal in the 110 metres hurdles at the European Championships in Zurich.
Sharman made a costly mistake in his Glasgow defeat and the same happened on Thursday as his trail leg clipped the seventh hurdle and his front leg smashed into the eighth.
He had been leading at the time, but the errors allowed defending champion Sergey Shubenkov of Russia to come through and claim the gold again.
Sharman's team-mate Lawrence Clarke was forced to miss the final after tweaking his hamstring in the warm-up and Andy Turner failed to qualify in what was his last major championships before retiring.
"I kind of got away with it when I slapped the hurdle with the trailing leg but that exposed the next hurdle which I hit with my lead," Sharman said.
"It's mixed emotions because I knew I was in the lead, I knew where [Sergey] Shubenkov is good and I knew where I was stronger and I didn't expect to be in the lead in the middle section. I could have done more and that's why I was gutted.
"Going into this I was bronze medal hopeful but the good thing is that we've been working on improving my absolute time so that if I do make a mistake in the final I can still come away with a medal. I am taking it down all the time and I think there's still more to come.
"On the start line I was quite tired, having done a personal best not long before, and I wanted just one more effort. When you're drained and the chips are down you have to produce your best result and I almost did."
There was disappointment for Britain's only other medal hope of the day with team captain Goldie Sayers only able to finish eighth in the women's javelin - her third round throw of 58.33 metres proved to be her best of the competition.
Frustration
"That was just incredibly frustrating," she said. "I didn't have a big throw in me today - if I did, I didn't get it out.
"My arm feels as good as it has ever been - that to me just shows the lack of throws in my training over the last 12 months."
But there should be plenty of other medal chances to come for Britain, especially in the 200 metre events.
Jodie Williams, Bianca Williams and Dina Asher-Smith impressively secured their places in the women's 200m final.
Adam Gemili will be Great Britain's sole representative in the men's line-up, but he qualified quicker than any of his rivals for the European crown.
And there was a bizarre end to the men's 3,000 metre steeplechase, with Mahiedine Mekhissi-Benabbad being stripped of his gold medal for removing his vest on the home straight.
The pre-race favourite from France chose to break the rules by removing his top, putting it in his mouth and waving to the crowd. He was shown a yellow card by officials but an appeal from Spain saw him demoted - his team-mate Yoann Kowal was given gold but an appeal has been lodged.