No pain, no gain
Jessica Judd talks to us about her recovery from injury, the challenges of running the 800m and personal bests.
Last Updated: 12/02/14 2:35pm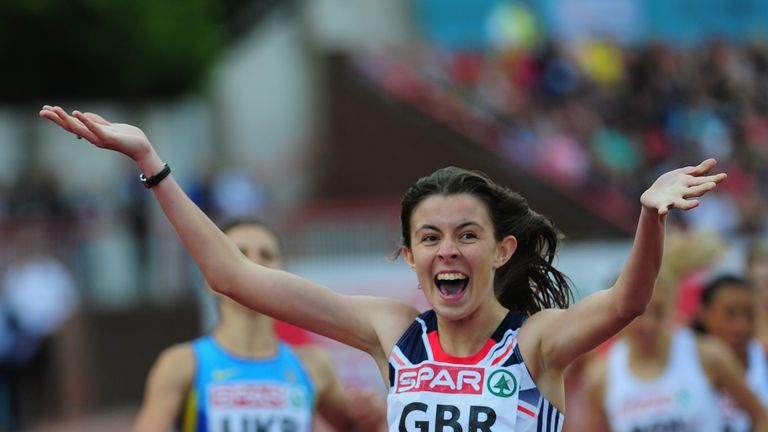 In a year that sees two major outdoor championships to look forward to in the summer, it was an early chance for Britain's up and coming youngsters to make a mark and for the more established stars to prove they're still the ones to beat.
One notable absentee, however, was 800m runner Jessica Judd. Having suffered a back injury over the winter, the 19-year-old had to make do with a watching brief as she continued her recovery, although she remains on course to be fit for the start of the outdoor season.
"I'm just back running, so I've been back running for two weeks - I say running it was more like a couple of strides but for me it was a big step," said Judd.
"I've done three days consecutively so I'm really happy and I'm actually getting distance done now."
The time spent injured is not something that any athlete enjoys but, despite her frustrations, Judd is confident that she will be return to action in far better shape than before her lay-off.
Stressful
"It's quite stressful I guess but I have faith in my rehab programme and what my physios are doing, I have faith that what I was doing was right," she said.
"It makes it so much better when you do it all, all that hard work, and you come back - I feel fitter than I was before I was injured. I've improved my technique. I've improved my running moment patterns and I've just got stronger in certain areas."
With all the improvements that she has made, the next step for Judd is returning to competition. The Sky Academy Sports Scholar knows she will have to be patient but is nevertheless chomping at the bit to be back on the track.
"I want to be ready by the end of March or April for competitions so I'm going to see if I can do any cross-country," she said.
"If I feel that I'm fit enough to do the last couple of cross-countries then I'll probably do them because I haven't shown my face at a race for a good couple of months!
"I want to get that feeling back of when the gun goes, just to go off and enjoy it. At the moment I think it's all about enjoying it. I think the main real focus races will be at the start of the track season and there's no reason that I won't be able to run them and do my best."
If Judd can find the form that she did last season then she knows she has the potential to be right in the mix for medals when the major championships come around. The Canvey Island athlete broke the two minute barrier in the 800m for the first time in 2013 and is determined to bring her personal best down further.
"It's really strange to think I've done it (gone under 2mins) because I've worked so hard to do that and it took me a long time to finally get the race right," explained Judd.
"I mean I ran a couple of really good races but they weren't under two minutes. So no matter how well I ran I was always a little bit disappointed because I hadn't gone under two minutes.
"It is nice to be able to do that because when you look at some of the PB's of people in the race and you think 'OK, they've gone under two' so it's the big divide I think - every 800m runner wants to get under two minutes.
"It's nice to be in that calibre but I don't want to stop there; I want to get under 1:59. I don't think I was far from running a 1:58 last year, my training was going really well and that's why I couldn't figure out why I hadn't run under two minutes.
"My training showed that I can and I was very close to running a 1:58 so I'm hoping that I can pick up where I left off, that I can get to a major champs and actually progress rather than just get there."
Priorities
Judd prioritised the 800m over the 1500m last and anticipates that it will be the same again this season, despite her complex relationship with the shorter distance.
"I think I'm going to do a bit of both but my main aim is going to be the 800m. I really enjoy it, the distance. There's just something about it, like when I get to the last 100m, can I hang on?" she remarked.
"I find it really hard. I get really nervous even for training sessions for the 800m just because I know how much they're going to hurt. So when I get to a race I'm petrified!
"I just try to break it down though into 200m, that way there's four and the first lap of an 800m goes pretty quickly to be honest. The first lap is just about using as little energy as possible I think but then the second lap is the crucial part.
"For me it's just trying to get into a good position but I get so nervous because every race is different. I had different tactics for most of the races that I had last year so I'm hoping I can learn from those experiences and see what can happen this year."
Though still a teenager this could be a hugely significant year Judd. 2013 saw her claim record times to put her amongst the elite as well as winning her first Diamond League race. Could 2014 be the year she takes that form into a major championship and a secure a medal to really announce herself on the world stage?