Neil Black interview
Ahead of the weekend's World Indoor Championships we spoke to British Athletics Performance Director Neil Black about the country's talented young athletes and his aims for the the future...
Last Updated: 05/03/14 2:10pm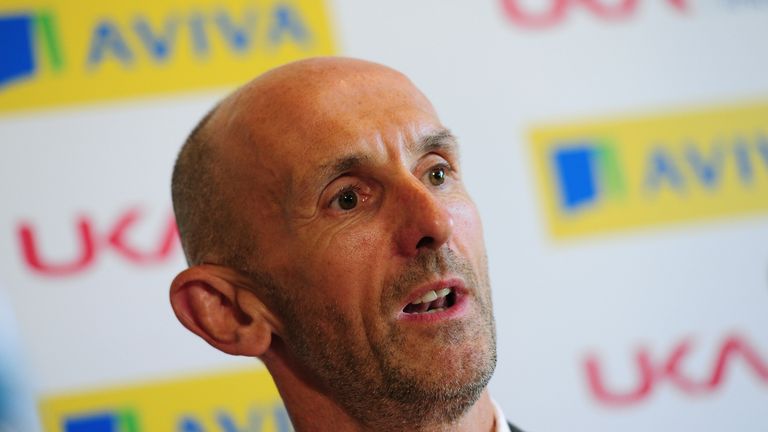 These are the words of British Athletics Performance Director Neil Black as he looks forward to this weekend's World Indoor Championships in Poland. It is a sentiment expressed on a number of occasions during our interview. His is a long-term plan and its success will not be defined by a single competition, certainly not so early on in the journey.
Having been involved with British Athletics in some capacity since 1992, Black could hardly have been in a better position to understand where things have gone right or wrong for Team GB in recent years and, more importantly, to see what can be done to further improve British athletes' chances of success in the coming years.
There have certainly been plenty of positive signs during this year's indoor season as a number of young British athletes impressed, firstly, at the National Indoor Championships in Sheffield and then at Birmingham's Indoor Grand Prix the following weekend and Black was delighted by such performances.
"I think it was brilliant to see that and I think I've had more positive comments in the past week about young talent, about brilliant performances and potential medallists for the future," he said.
"It's giving people a really warm and optimistic feel. So that was probably the strongest thing that we took away from Sheffield, these words of young talent, brilliant performances, winning medals at the National Championships.
"Being somebody who is on the podium at a National Championships is a really special thing. To get so much positive feedback and for people to feel so engaged in that, as a result of young people competing well, really feels very good."
Black was also effusive in his praise of programmes such as the Sky Academy Sports Scholarships in helping to provide complimentary support for talented athletes as they strive to achieve their goals on the international stage.
"I think the concept of complimentary support and working together to have a maximum benefit for the athletes and the coaches is absolutely critical," he said.
"The (Sports Scholarships) scheme is a really beneficial one and what feels really good about it is the involvement and the discussion with myself as the Performance Director from the early stages.
"To discuss it, to be involved with the development of it, to understand it, to be supportive of it and to see how it complements the things that we are doing as an organisation and other similar schemes that are occurring and that are available to athletes.
"It feels joined up and it feels as though it adds value. It's a hugely positive addition to things that are naturally occurring to help athletes."
Whilst both Black and the Sports Scholarships programme have a firm focus on the long term, the more immediate concern for the former is Sopot and the World Indoor Championships, starting on Friday.
However, the former middle distance runner maintained that ultimately it is just another step on the road to Rio and beyond.
"We haven't set specific targets and that's again because it's a year where as part of this journey towards 2016 and 2017 - the Olympic Games, the Paralympics, the World Championships and the IPCC Worlds," said Black.
"We're really on a journey and there's a whole series of events along that journey and for some athletes the World Championships will be one of the most important events and for others the Birmingham Indoor International will be one of the most important.
"Then there are two huge events during the summer, the Commonwealth Games in Glasgow, which is amazing, and the European Championships in Zurich. All of these events are important for people in different ways as part of their journey on to 2016 and 2017."
Two young athletes for whom 2014 could be a significant year in terms of confirming themselves as really elite competitors are heptathlete Katarina Johnson-Thompson and pole vault, and Sky Academy Sports Scholar, Holly Bleasdale.
Both will be in action in Poland over the weekend and Black was quick to praise the work of coaches Mike Holmes and Scott Simpson in helping Johnson-Thompson and Bleasdale, respectively.
"It makes the job so much easier when great coaches are working with great young athletes," he commented. "Those two athletes in particular have got personalities where they are able to deal with the variables, the highs and lows of track and field as part of life.
"Holly has obviously overcome serious injury where she made a massive decision last year to end her season early and not attempt to compete in the Moscow World Championships with a view to getting herself healthy, having a positive plan, thinking positively about this year as part of that journey that I keep mentioning through to 2016, 2017.
"Again with her coach Scott Simpson helping her to make those tough calls with a really positive thought process about what she has the ability to do over her career as opposed to any one moment within it.
"Kat and her coach Mike Holmes, who I've known for many, many years, we've coached lots of athletes over the years so we go back a long way and he's always been the guy who is quietly confident, assertive.
"Again just sensible, logical, part of a team, interested in taking advice and thoughts from other people but then making good decisions with the athletes. So it's brilliant to see him working with Kat who's got so much talent, who's at the very early stages of her career but already seems as though she's been around for quite a long time because she's been so successful and has such a big personality with it.
"It's that combination of coach and athlete, supported sensibly, being able to deal with the circumstances of being talented, success at relatively early years but then thinking longer term about how to maintain and further develop this success and our job in British Athletics is to support, to facilitate, to manage and to occasionally give direction, occasionally constructively challenge and that's what we do. We work with these guys to assist their performance."
It is no surprise that things have changed significantly in the 22 years that Black has been involved with British Athletics, but the current Performance Director is adamant that it is a natural development and increased knowledge rather than any lack of professionalism in the past that has seen progress made.
"I think things have changed a lot and I think the simple summary would be that athletes and coaches have become more knowledgeable over a period of time, naturally," added Black.
"But I think in a really accelerated way over the last eight to ten years things have changed a lot. So if you went into a training centre in Loughborough, the National Performance Institute now you would see very different practicing, very different techniques to that which you would have seen ten years ago which would have been quite different to that which you'd have seen 20 years ago.
"So the desire the, the interest, the enthusiasm is the same, the actual knowledge, the understanding and the application have improved significantly as knowledge has increased and an understanding of almost how to go about your trade, how to go about being a professional athlete or a professional coach. That's not a criticism of people from the past; it's just natural as knowledge is improved."
Such knowledge is not limited to Britain, of course, but there is little doubt that it will help Team GB on their journey over the next few years. What, though, is the final destination on this journey and how will Black measure whether it has been a successful one?
"You look at it in different ways," he said. "The fundamental measure of what we do is medals at the Olympic Games, the World Championships and Paralympic Games - and I think it's really important to remind people of that, it's not just the Olympic programme but the Paralympic programme as well.
"As part of that we all want to contribute to greater participation in track and field and in sport. We all want to contribute to the health of the nation, we want more young people in clubs, we want more coaches coaching young people. We want the performances of those young people to be improving so that club records, national records and so on are broken over time. We want each individual athlete to be improving their personal bests on that journey to winning medals.
"The simple answer is that the fundamental is medals at the Olympics, Paralympics, World Championships, IPCC Worlds but that journey of everyone both participating and achieving improved standards and ultimately doing their best performances is the much bigger overall thing."