Olympic champion Mo Farah excited ahead of British Athletics Grand Prix in Birmingham
Olympic champion Mo Farah is excited about competing at the British Athletics Grand Prix in Birmingham this weekend.
Last Updated: 15/02/13 6:07pm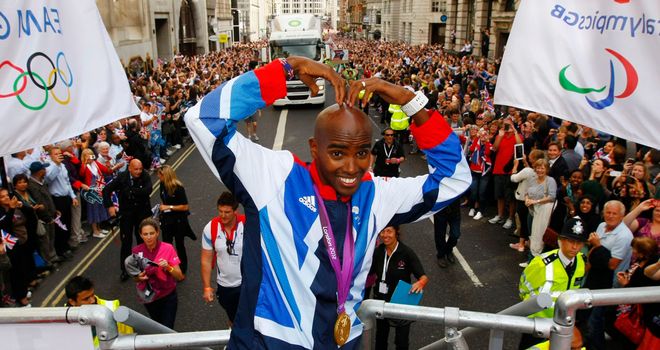 Farah has only just returned to the UK after a six-week training stint in Kenya and is desperate to hold off a growing list of rivals wanting to beat him.
The 29-year-old admitted recently he was a month behind training partner and Olympic 10,000m silver medallist Galen Rupp and ahead of his first race of 2013, he said: "I am always motivated and I have to be even more motivated now.
"When you're at the top there are more people who want to knock you down. There are more eyes on you. After the Olympics I just wanted to spend time with my family. Then you have to go pick up the training. If I don't I know I'll get beat.
"It was nice to get real training done, I've not done it for a long time, since just before the Olympics. I have done some good training and good mileage so I am a lot further on than where I was."
Birmingham will be Farah's only indoor race of the season (he runs in the 3,000m), before immediately switching to a half-marathon in New Orleans next weekend, with the main focus the World Championships in Moscow this summer.
"There is a World Championship in August and I want to defend my title and try to win the 10,000 this time," he added. "That race nags away but you learn from your mistakes and I have learnt a lot from that race."
Top sprint
The most competitive event on Saturday's schedule at the National Indoor Arena is likely to be the women's 60m, with double Olympic 100m champion Shelly-Ann Fraser-Pryce of Jamaica renewing her rivalry with London silver medallist Carmelita Jeter.
Ivorian Murielle Ahoure, who has set the six fastest times in the world this year, is also in the line-up, along with new UK champion Asha Philip, who set a personal best of 7.15secs in Sheffield last weekend.
Fraser-Pryce and Jeter both recorded three wins over each other in 2012 and feel the likes of Usain Bolt, Yohan Blake and Tyson Gay should follow their example and face each other more often.
"I definitely think there should be a lot more clashes," said Fraser-Pryce, who is remarkably racing indoors for the first time in her career at the NIA.
"I don't want to say it's an ego thing, but I definitely think we should have more clashes for male athletes. I think it would do wonders for the sport as well.
"My coach says 'When you go into a championship there's not supposed to be anything different' because you have raced these people over and over again. He's sick and tired of people going into a major championship and suddenly feeling extra nervous, starting to have butterflies.
"When I get to the line of a major championship I'm like, 'Well, I raced her last week in Zurich or Birmingham.' It's bringing back the same atmosphere."