European Indoor Championships: Holly Bleasdale secures gold for Britain
Holly Bleasdale secured Britain's first medal of the European Indoor Championships after a dramatic pole vault jump-off.
Last Updated: 02/03/13 7:44pm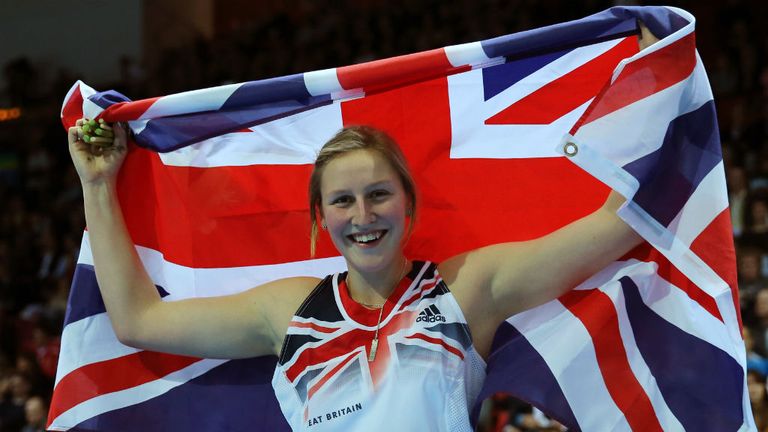 The 21-year-old from Blackburn and defending champion Anna Rogowska from Poland both initially failed with three attempts at 4.72 metres in Gothenburg and could not be separated on countback.
That meant a rare jump-off with the bar remaining at 4.72m for one more attempt each, and when both failed again it moved down to 4.67m, which the pair had cleared at the second attempt in regulation.
However, this time Rogowska was unable to repeat the feat and Bleasdale grabbed her opportunity with a fine clearance to secure the gold medal and a first major title.
Bleasdale revealed she initially thought she had finished second, saying: "I knew they did them (jump-offs) but I've never ever been in one before. I thought I had just come second so I was waving to the crowd and then they told me I had to do a jump-off.
"I didn't really know what one was but I am glad we did it. We had the option to share the gold medal or do a jump-off and I wanted to do a jump-off. I wanted the gold medal to myself. I was in the moment and felt really good and felt if I got my jump together I could clear the bar easily."
Team-mate James Dasaolu came agonisingly close to making it a golden double in the 60m final, but a photo-finish gave France's Jimmy Vicaut the title and meant Dasaolu had to settle for silver, with both men given the same world-leading time of 6.48 seconds.
Olympic bronze medallist Robbie Grabarz finished sixth in the high jump, while Shara Proctor was denied a bronze medal in the long jump by two centimetres in the final round.