Asafa Powell's trainer insists he is not responsible for positive test
The trainer of sprinters Asafa Powell and Sherone Simpson insists he is not responsible for their positive dope tests.
Last Updated: 17/07/13 8:44am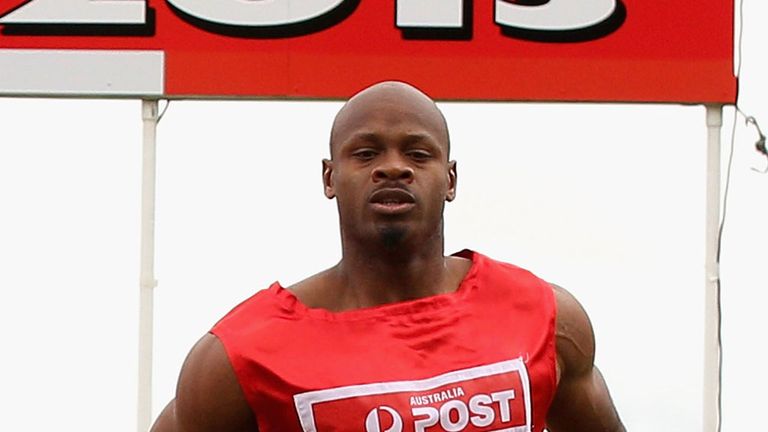 And Chris Xuereb says the pair should take responsibility for their doping instead of looking around for a scapegoat.
Powell and Simpson tested positive for the banned stimulant oxilofrine at the Jamaican championships last month.
The news broke whilst they were at a training camp, and Italian police subsequently raided the hotel where they were staying and seized a large quantity of drugs which are being analysed to establish if they are illegal.
Powell's agent Paul Doyle then pointed the finger at their new trainer Xuereb, claiming something in the new supplements the sprinters were taking caused the positive test and "Chris is the one that provided those."
But Canadian Xuereb, in a statement, said: "It is time the athletes took responsibility for their doping instead of looking around for a scapegoat, whether that person is their therapist, bartender or anyone else.
"Athletes keep using the same story, which is to blame the scapegoat for their own wrongdoing. I did not provide any banned or illegal substances to Asafa Powell or Sherone Simpson.
Responsibility
"I do not know what these athletes were taking in addition to what I suggested to them. Although I suggested certain vitamins to these athletes, it is ultimately the athlete's responsibility to accept or reject my suggestion.
"Unfortunately, it appears that these athletes were not solely following my suggestions or WADA's guidelines. These guidelines are in place so all athletes can have a clean sport. Both athletes are clearly looking for a scapegoat. I am confident, and I have also spoken to researchers and the police, that I have done nothing wrong."
Doyle said he and the sprinters worked in conjunction with the World Anti-Doping Agency and Italian police on the hotel raid after becoming suspicious that Xuereb might have given them supplements laced with a banned substance.
Doyle also said Powell and Simpson were aware of the impending raid, but Xuereb was kept out of the loop.
"Asafa and Sherone have been tested more than 100 times each through their career...and never turned in a positive test," Doyle said.
"Now they change their supplements and the first time they get tested, they have a positive test? It has to be something in those new supplements that has caused it. Chris is the one that provided those.
"We're not saying he did anything deliberate, but it's in those supplements."