Usain Bolt assures athletics fans he is clean and the sport is in safe hands
The world's fastest man Usain Bolt said he was shocked to hear of the latest drugs scandal that has engulfed athletics.
Last Updated: 26/07/13 1:38pm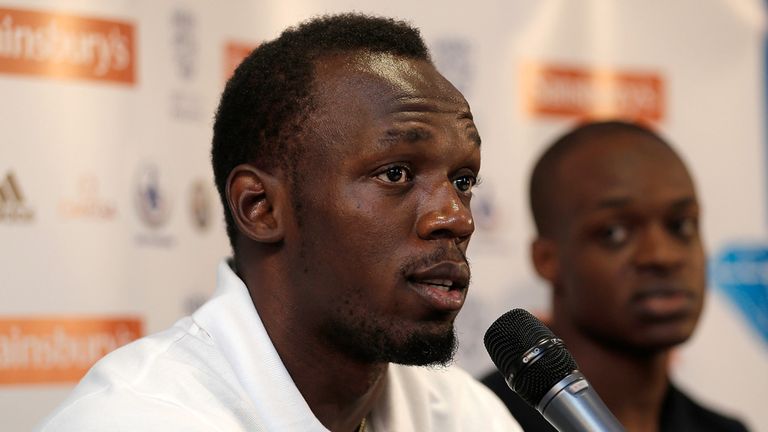 The world's fastest man, speaking ahead of this weekend's London Anniversary Games, responded to comments thrown his way on Jamaican team-mate Asafa Powell and American Tyson Gay.
Gay, who tops the 100m world rankings this year, tested positive for a banned substance and immediately withdrew from the World Championships that start next month.
Former 100m world record holder Powell, confirmed that he had tested positive for a banned stimulant at his national trials, but denies any wrong-doing.
"It was surprising, definitely, to hear what was going on," said the six-time Olympic gold medallist.
"There are a lot of details left to be discussed so we're sitting and waiting to see the results and what's what. There's a lot that hasn't been said and hasn't been done yet so I'm just waiting to see what's going."
Focus
And Bolt added that he'd briefly spoken to Powell: "I told him to stay strong and stay focused and I hope everything will work out."
The 26-year-old laid down a firm message to fans and insisted that while the sport has been set back, athletics is in safe hands.
"It's going to set us back a little bit but as a person I can't really focus on this," he said. "I have the World Championships ahead of me and people are stepping up their game so I have to really focus on that.
"If you had been following me since 2002, you'd know I've been doing incredible things since the age of 15.
"I was made to inspire people and to run. I have confidence in myself and my team. I know I'm clean so I'm just going to continue running and try to improve the sport. That's my aim."
Bolt was joined at the news conference by the second-fastest Briton of all-time James Dasaolu, who will line up against the Jamaican in the 100m on Friday at the Olympic Stadium.
"Tomorrow will be a tough race, the fastest man in history and six-time Olympic champion," he admitted. "I'm going to give it my best and enjoy the home crowd."
And Dasaolu, who clocked a sensational 9.91 seconds just hours before the news broke regarding failed drugs tests from Powell and Gay earlier this month, said British Athletics have the right processes in place.
"It's not the best when it happens in your sport but at British Athletics our main concern is about educating athletes," he said.