Anniversary Games: Usain Bolt leads Racers Track Club to 4x100 metres relay win
Sprinting hero Usain Bolt led the Racers Track Club to 4x100 metres relay victory at the Sainsbury's Anniversary Games.
Last Updated: 27/07/13 9:04pm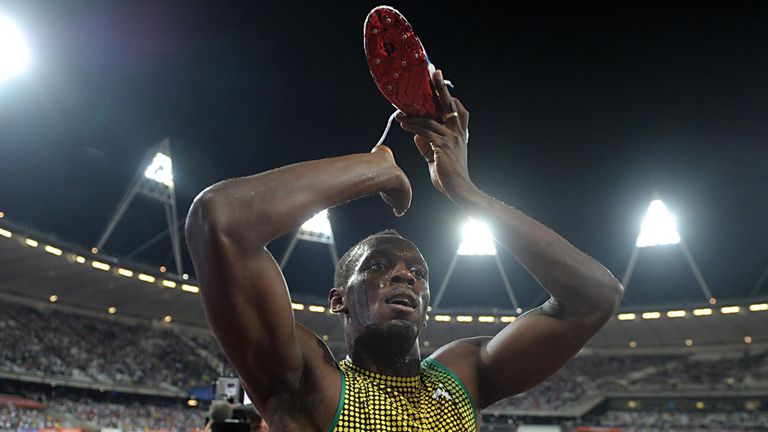 Bolt, who won three golds at London 2012, returned to the Olympic Stadium on Friday evening to power to 100m success before easing over the line to complete an impressive time of 37.75 seconds for his team on Saturday afternoon.
France finished just ahead of Canada in second place with Great Britain's woes continuing as another poor baton exchange left their first quartet out of the race, while the second-string finished fifth.
The Racers Track Club team was made up of Bolt's fellow Jamaicans Mario Forsythe, Kemar Bailey-Cole and Warren Weir, and Bolt was happy with their collective display.
"It was good running with my team-mates especially the guys I see every day, so it was nice," he said.
"We haven't run a lot of relays together, but just being around each other everyday we can understand each other and we know how fast we are personally, so it worked out really well.
"I think I'm getting older now so I'm the team leader. I try to keep them focused and give them my wisdom and stuff like that."
The 26-year-old Bolt, whose double success this weekend could prove to be his swansong at the Olympic Stadium if the tax laws which almost scuppered his appearance this time around are not relaxed, could be back in Britain as early as next year for the Commonwealth Games in Glasgow, but his thoughts at the moment have turned to the World Championships in Moscow next month.
He said: "I would love to go to the Commonwealth Games but we will see. It will be determined by what the coach says.
"We have two weeks to go (until the World Championships) and a little bit of work to do.
"It will be a little bit different and we are looking forward to it. We are sure we can do better."
Baton error
Britain's latest baton error came on the change between Adam Gemili and James Ellington as it was understood that the team had planned to push their handovers to the limit in preparation for Moscow.
Gemili was also at fault as Britain did not progress through the heats at the Olympics last summer, when he set off too early and was out of his box before Danny Talbot could complete the handover.
Dwain Chambers, who was on the team on both occasions, has said he will talk to Gemili about the error after the teenager was drafted into the line-up at late notice to replace the injured James Dasaolu.
"It is a tough occasion," Chambers said. "This is almost the equivalent of the Olympic Games all over again and whatever issues there are we just have to try and review them and improve. I will speak to Adam and try and console him as best I can.
"It's a team effort and its about what we think on an individual basis. We have to pull together and just work and build from it.
"We've got a great team, we've been training really well and we've had fantastic relay performances throughout the summer. It's just unfortunate on this occasion we didn't get it round."