Darren Campbell explains tactical battle if Mo Farah races Usain Bolt
Sky Sports' Darren Campbell says a race between Mo Farah and Usain Bolt would be a fascinating tactical battle.
Last Updated: 29/07/13 6:56pm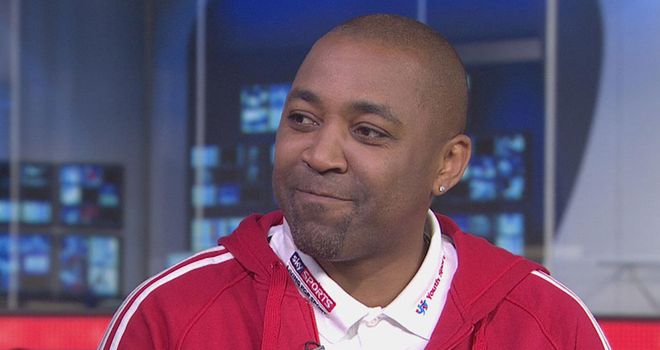 British superstar Farah, the Olympic 5000 and 1000m champion, has challenged the 100m and 200m legend Bolt to a race for charity.
Farah has suggested somewhere between 600m and 800m would be fair for both men. And Bolt has confirmed he would be up for a 600m race.
Campbell, a former Olympic champion himself, told Sky Sports News: "You can already tell how excited everybody is to potentially see Mo Farah against Usain Bolt. I think the fact that they are both represented by the same agent could mean that this could happen," he said.
"How good this would be for the charities who would benefit from this race."
Former sprint star Campbell says a 600m race would be a far more painful experience for Bolt than Farah.
"Usain Bolt is a 100m, 200m runner. There has been talk in the past about him moving up to 400m. But the pain sprinters feel when they move up to 400m is phenomenal. It's not a distance he would like to run but in aid of charity, 600m would probably be the limit.
"Usain would have been blessed with a tremendous amount of fast-twitch fibres. He wouldn't have a fantastic endurance pace.
"As a 100m, 200m sprinter a lot of the work he would do would be explosive work. The fact that he runs 200m means he will do over-distance work and 600m would probably be the limit of what he would do in training. He will run 600m but he won't run it very quickly.
"It's mainly to give him a base so he can get through the rounds in the world championships and Olympic Games.
"If this was to go ahead you would probably find that it would happen during winter training or just before the start of the season when Usain has built up that endurance pace.
"After 600m there would be a lack of oxygen that he wouldn't be used to. A lot of sprinters hold their breath so straight away, just the breathing patterns and the way he would attack and run the race, these are the things that would give Usain Bolt problems."
Tactics
Campbell said tactics would be key, with both men having to think carefully about how to tackle the race.
"I think what Bolt would do is he would just try and stay with Mo. It would depend on the pace that Mo decided to go off at. If I was Mo Farah I would just try and attack it from the beginning. If Usain is able to go with the pace, then his kick will be tremendous," he said.
"But Mo has been working on his pace this year and we've seen that with him breaking the British 1500m record. It's not that he hasn't got any speed but we're talking about (racing) the great Usain Bolt.
"The conditions won't play any part. Maybe it would at altitude. And I would think it would be in a hot country. For Usain to do it, maybe it would be in Kingston, Jamaica.
"Mo can run 50 seconds for 400m. Usain could probably run 45 seconds for 400m. But when you take it up in distance it becomes very, very difficult for Bolt.
"Linford Christie always used to say he could beat Kelly Holmes over 800m. I always thought, 'you think you can'. It's the pace judgement, doing that first 400m at a pace that's comfortable. And that's where Bolt would be at a disadvantage. What is comfortable for him? He wouldn't know. He knows that if he doesn't have a big enough distance, or stay with Mo, his kick wouldn't work."