Athletics: Mo Farah and Usain Bolt fantasy race analysed
Mo Farah and Usain Bolt have caught the imagination of fans after announcing they would be willing to face each other.
Last Updated: 31/07/13 9:12am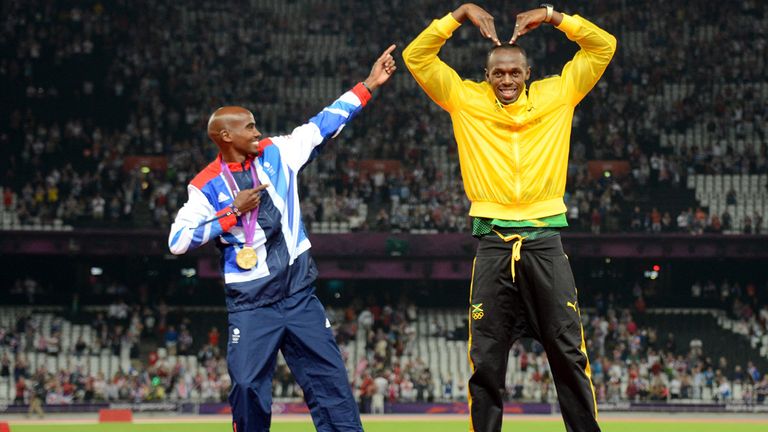 Double Olympic champion Farah challenged the world 100m and 200m record holder to a one-off race - possibly over 600m - for charity last weekend.
After watching Farah throw down the gauntlet via the Sky Sports mobile app, Bolt accepted the challenge - and the speculation over who would win began.
Bookmakers have Farah as favourite to win at both 600m and 800m and sports scientist Professor Roderick King believes the tactics used by both runners would be crucial.
"Normally we see individuals that have the same capacity of ability and they run together in a bunch," he said. "They won't be separated by vast distances. But because we've got a sprinter and a long distance runner here, their tactics should reflect that.
"I'm beginning to think that Bolt should actually go fairly fast but not the fastest that he can so he doesn't build up his lactate too high and retain a strong sprint ability.
"Mo Farah should go a little bit faster than he normally would, on the basis that he's not going to run for as long as he normally would. But then of course they should both finish at exactly the same point!"
Former Olympic 100m champion Allan Wells, meanwhile, reckons Bolt's best bet would be to sit on Farah's shoulder and let his speed tell in the closing stages.
He told Sky Sports News: "Mo's not slow, and if it was me I'd let him pull me along, be relaxed, and we know Mr Bolt can turn teh turbo on any time he wants.
"That's how I would work it, maybe in the last 20m or 30m."
Raised profile
It's not just fans and athletics experts excited by the prospect of Farah versus Bolt - boxing promoter Eddie Hearn thinks the contest would be a great opportunity to raise the profile of the sport.
"It would be remarkable," he said. "It would be a real coup for athletics.
"In terms of events like that, it's a chance to bring the casual fans to the sport. And Farah against Bolt - what an occasion that would be!
"You could put it on an undercard of other events and get other Olympians or Paralympians involved. It could be a huge event.
"In the name of charity it would be fantastic, and the Olympic Stadium (in London) would be the ideal place."
Sky Bet PR Director Dale Tempest said: "It will be fantastic if it happens for charity but it has been very difficult to price up and the distance is absolutely crucial.
"The longer the distance, the more we favour Farah, but if we went the opposite way, say 400m, then Bolt would have to be favourite."