World Athletics Championships: Usain Bolt wins 100 metres title in 9.77 seconds
Usain Bolt won the 100 metres title at the World Athletics Championships in Moscow in a time of 9.77 seconds.
Last Updated: 11/08/13 11:52pm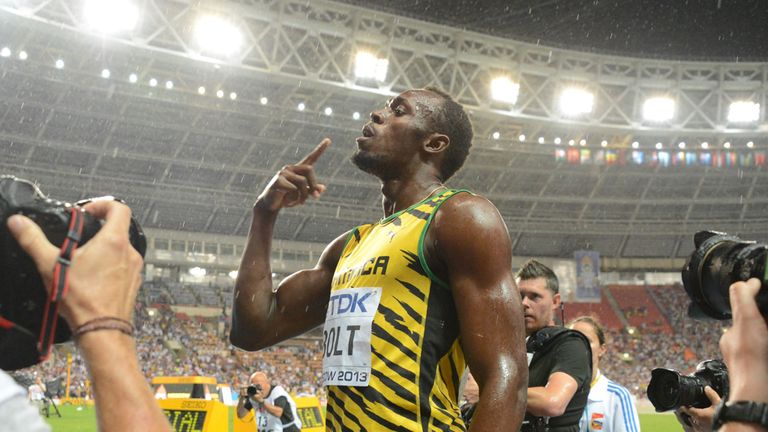 The Jamaican superstar won back the title he lost two years ago in South Korea, when a false start disqualified him from the final.
Justin Gatlin of the United States took silver after jumping out to an early lead, while Nesta Carter of Jamaica won the bronze.
The world record holder defied the pouring rain to storm to victory on a drenched track in his best time of the year, holding off the challenge of Gatlin, who clocked 9.85secs, while Carter finished in 9.95s.
Bolt put on a typically slow-burning show in front of a Luzhniki Stadium that was far from being a sell-out in the wet weather.
The double Olympic champion was understandably slow out of the blocks as he took pains to avoid his fate of two years ago and his head and shoulders remained low as he drove into the opening metres.
But there was an ominous feel to the mddle part of the race as he reeled in the opposition almost effortlessly.
At the 50 metre mark Bolt pushed his huge frame through his renowed transition phase, head coming up and long legs pumping, as he cruised past Gatlin on his left and had a brief look over at Carter on his right, before racing two metres clear at the tape.
Great Britain's James Dasaolu was tailed off in eighth place in 10.21.
"It was not a revenge for Daegu, I just came here to win this title," said Bolt.
"I wanted to do a better time, but was not able to because of the weather. This is just one of those days - not 'singing in the rain', but 'running in the rain'.
"It was an average start and that, for me, is a great start. Around great starters like Gatlin and Carter I knew I had to get it right. I knew Gatlin was not going to crack under pressure so I had to stay focused and run to the line.
"I said to Gatlin I always appreciate competing with him because he always comes out and gives it his best."