World Athletics Championships: No problems for Mo Farah in 5,000 metres semi-final
Mo Farah had no problems in securing a place in the final of the 5,000 metres at the World Championships in Moscow.
Last Updated: 13/08/13 11:48am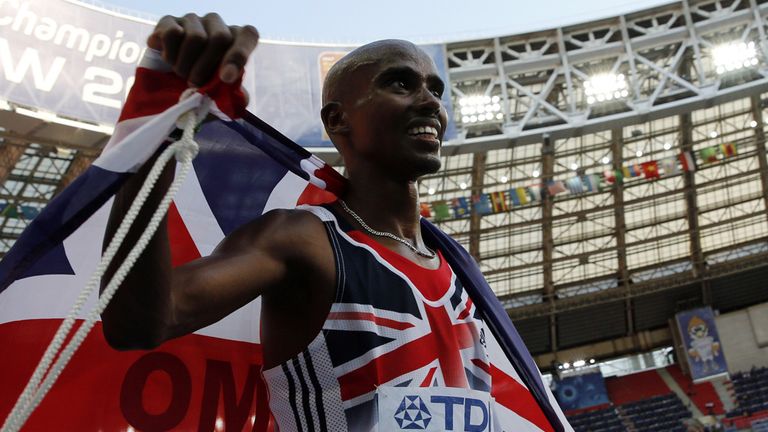 Farah, who won the 10,000 metres title on Sunday, jogged over the line in fifth place in his semi-final alongside long-time training partner Galen Rupp.
He came home in a time of 13 minutes 23.93 seconds but that will be of little interest to him, more the ease of his qualification for Friday's final.
Farah was prominent throughout the race, clearly avoiding getting into the sort of trouble that plagued a number of runners in the first semi.
But he and Rupp eased off in the final 400 metres as some of rivals less experienced rivals decided they would rather sprint out victory, which eventually went to Ethiopia's Muktar Edris.
"You've just got to get the job done comfortably without going crazy," double Olympic champion Farah said.
"That was the aim. Run the minimum as you can. The body feels good thanks to Neil Black and the rest of the team that has been looking after me. It's recovering well.
"I'll have an ice bath and rest as much as I can, just get ready for the final.
"Galen's a great athlete and that's our aim - to work together. We do everything together. Our coach Alberto Salazar told us to run as easy as possible and be as comfortable as we can.
"It would mean a lot to me (to do the double). I want to be able to go out there and do the best I can for my country, hopefully make everyone proud."
There was also good news for Great Britain in the men's high jump, where Olympic bronze medallist Robbie Grabarz was one of the leading qualifiers for the final with a first-time clearance at 2.29 metres.
He said: "It was really nice to come out today and qualify strongly. It's been a bad season really, but I've had to be patient and we'll see what happens on Thursday."