World Athletics Championships: Perri Shakes-Drayton and Eilidh Child fall short of medal
Perri Shakes-Drayton and Eilidh Child missed out on medals in the 400 metres hurdles final at the World championships.
Last Updated: 19/08/13 11:39am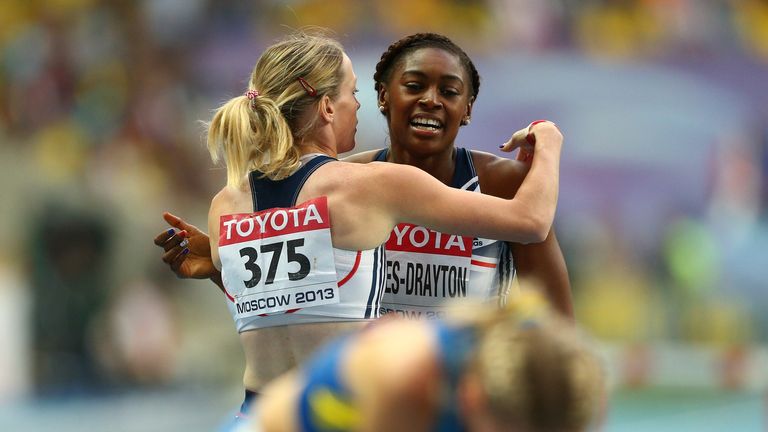 There had been high hopes for Shakes-Drayton who had roared through her semi-final as the second fastest qualifier but she clipped the third hurdle and struggled with a knee problem.
Czech favourite Zuzanna Hejnova stormed to victory in a stunning time of 52.84 seconds with Child in fifth and Shakes-Drayton in seventh.
Shakes-Drayton, who missed out on the final in her home Olympics last year, said: "My knee was wobbling and it has to be seen to now and I'm just gutted.
"I was going so well and felt so good. I was still pushing but I was just losing control."
It was a destructive display by Hejnova but was fully expected having already run five of the six fastest times of the year.
Child remained upbeat despite finishing two places behind the medal spots and said: "It wasn't a great race. I felt tired tonight but I cant complain about being in a world final."
England fourth
Britain's Hannah England, a silver medallist two years ago, produced a strong finish in the 1,500m final to claim fourth place.
Despite her late surge, England was well adrift of the winner, Sweden's Ethiopian-born Abeba Aregawi, who stormed to the title in 4:02.67.
Defending champion Jennifer Simpson was second and Kenyan Hellen Onsando Obiri third, 0.12s ahead of England.
"I left it too late. I'm not sure I could've got those guys," England said. "Everyone says fourth is the worst position, but it's better than fifth, sixth, seventh, eighth.
"Fourth in the world is amazing. If anything I feel like it's backed up my second from two years ago. I feel like I should be more gutted with fourth, but actually I'm really chuffed."
Grabarz flops
Olympic bronze medallist Robbie Grabarz was unable to add to his medal haul, finishing eighth in the high jump final with a best clearance of 2.29m.
Ukraine's Bohdan Bondarenko earned gold with an effort of 2.41m and only narrowly failed to set a new world record, knocking off the bar three times at 2.47m.
Trinidad & Tobago's Jehue Gordon edged out American Michael Tinsley by a hundreth of second to win gold in the men's 400m hurdles in a time of 47.69s.
Kenyan Ezekiel Kemboi claimed his third straight 3,000 metres steeplechase world title by holding off 18-year-old team-mate Conseslus Kipruto, while Caterine Ibargueen took gold for Colombia in the women's triple jump with a best effort of 14.85m.