Yelena Isinbayeva claims: My comments have been misunderstood.
Yelena Isinbayeva has claimed that her support of Russia's anti-gay propaganda laws may have been 'misunderstood.'
Last Updated: 16/08/13 3:11pm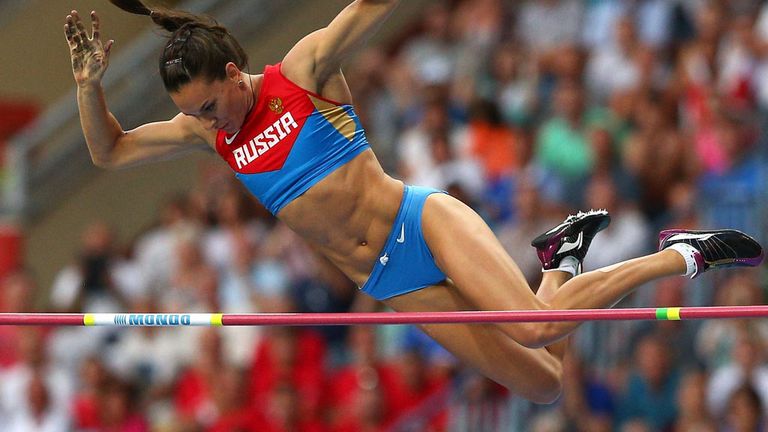 The two-time Olympic gold medalist and three-time world champion defended her country's legislation that make it illegal to provide information about homosexuality to people under the age of 18.
She told a Moscow press conference on Thursday that "maybe we are different than European people and people from different lands.
"We have our law which everyone has to respect. When we go to different countries, we try to follow their rules. We are just trying to be respectful."
Her comments during the on-going World Championships - where earlier this week she won gold - has been criticised by a number of fellow athletes.
A leading British athlete described the 31-year-old as 'outwardly homophobic,' calling on the International Olympic Committee to remove her from her role as an ambassador for the Youth Olympics.
But Isinbayeva now says: "English is not my first language and I think I may have been misunderstood when I spoke yesterday.
"What I wanted to say was that people should respect the laws of other countries particularly when they are guests.
Respect
"But let me make it clear I respect the views of my fellow athletes, and let me state in the strongest terms that I am opposed to any discrimination against gay people on the grounds of their sexuality."
British heptathlete Louise Hazel - a Commonwealth Games gold medalist - had complained earlier, saying: "They (the IOC) should definitely be revising her position as an ambassador.
"That just seems ridiculous to me. I think it should be their first point of call after the World Championships are over.
"Essentially she's being outwardly homophobic. It's the 21st century.
"It blows my mind that such a young, well-travelled, well-educated woman would be so behind the times.
"But most athletes I've seen, especially the ones from my generation, it's not an issue.
"A role model is somebody we can look to for inspiration and also to imitate. You're not supposed to exclude anyone and that's what she's done in making these comments.
"Sending the message that discrimination is OK and it quite clearly is not in this day and age.
"I just don't feel that it's in keeping with the spirit of sport in general and the all-encompassing, all inclusive values of the Olympic Games."