Coach Alberto Salazar slams claims Mo Farah could be using drugs
Mo Farah's coach Alberto Salazar has slammed any talk that the double world and Olympic champion could have used drugs.
Last Updated: 20/08/13 2:57pm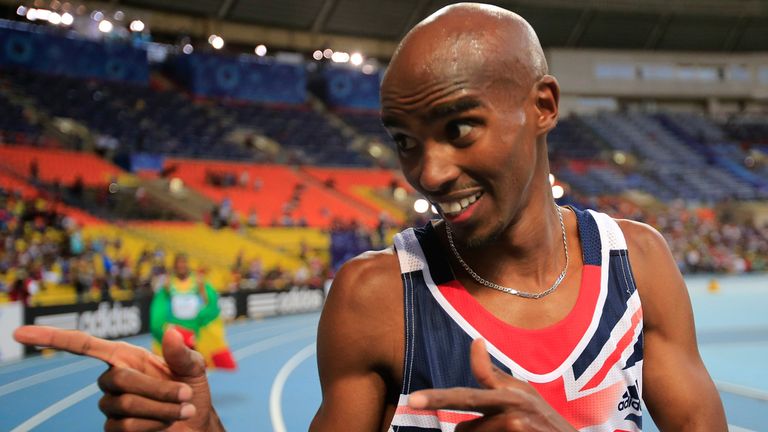 Farah has now completed a 'double-double' after adding the 5,000m and 10,000m World Championship titles to the Olympic golden double he won in London last year.
After also breaking the European 1500m record last month, some claims of possible doping were made in internet forums, claims that have been met with an angry response from Salazar.
Farah's huge improvement over recent years coincided with him moving to America with his family to emerge himself in Salazar's training methods and the British star has reaped the benefits ever since.
Salazar has been angered by drugs claims and says it is an easy accusation to make and stems from jealousy at Farah's achievements.
Anger
"It bothers me when people question my integrity," the American said. "At this level, we know we're clean. We know we're never going to test positive for anything. No way in the world. I have a clear conscience.
"Everyone is so into this drug mania. Everybody believes that if anybody runs well they have to be on drugs. That's their excuse for why they don't run well.
"They're saying: 'They've got to be cheating'. They should be saying: 'You know what, it's do-able because Mo Farah did it. If I train this hard and do this, then I can do it'.
"When we see all this stuff we just think 'good'. It just means there are fewer people for us to worry about because they're all using this as an excuse."
Salazar revealed even Farah's use of legitimate supplements is strictly limited for fear of contamination with banned substances, saying: "We don't take that much stuff and everything that Mo takes is from UK Athletics.
Supplements
"None of our athletes are on any sports-specific supplement other than beta alanine, which is an amino acid. Other than that, it's iron, vitamin D and that's it. You don't really need anything else."
Having worked with Farah since 2011, three-time New York Marathon winner Salazar puts his protege's improvement down to a dramatic shift in the intensity of his training methods.
"When you look at it from the outside it's hard to see it but for me, being in there, it's not hard to see it because I see how fast he was before he joined our programme and the sort of work he used to do compared to what we do now year-round," he said.
"He hardly did any stuff and he was still fast, so is it surprising that when we do this stuff, he is where he is?
"Some of the speed work we do is just phenomenal. I've seen him do workouts when he'll be pushing himself so hard that he literally has to crawl off the track."