Athlete Sir Chris Chataway dies aged 82
Sir Chris Chataway, one of the men who helped Sir Roger Bannister run the first four-minute mile, has died aged 82.
Last Updated: 19/01/14 12:44pm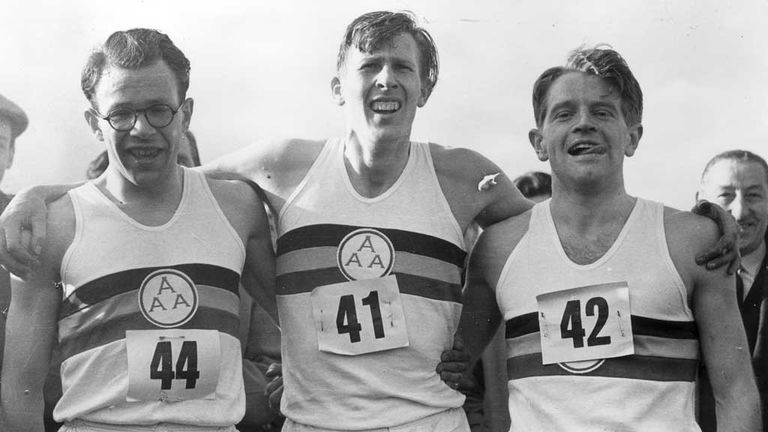 Chataway had been battling cancer for the last two-and-a-half years, the disease having eventually brought an end to his passion for running just before he turned 80.
Along with Chris Brasher, Chataway acted as a pacemaker for Bannister at Iffley Road in Oxford in 1954 when he became the first man to run a mile in under four minutes.
Brasher led things off and Chataway took over before allowing Bannister to sprint for the line in the final 200 metres, eventually breaking the tape in three minutes 59.4 seconds.
Chataway went on to take a silver medal over 5,000 metres at the European Championships in Bern, Switzerland, and broke the world record over that distance later in 1954 as well as winning gold over three miles in the Comonwealth Games in Vancouver.
Those performances were enough for him to be named the first winner of the BBC Sports Personality of the Year award ahead of Bannister.
"He was gallant to the end," Bannister told BBC Sport. "Our friendship dated back over more than half a century.
"We laughed, ran and commiserated together. People will always remember him for the great runner he was, but it shouldn't be forgotten that he had an extremely distinguished career off the track.
"My family and I will miss him sorely and our thoughts go out to his family and many friends who were so fond of him."
After retiring from top-level athletics, Chataway went on to have successful careers in broadcasting and politics, winning the Lewisham North seat for the Conservative Party in a 1957 by-election.
Chataway stayed in politics until 1974 before going on to be a successful businessman - he was knighted in 1995 for his services to aviation after a spell as chairman of the Civil Aviation Authority.