Athletics: Renaud Lavillenie breaks Sergey Bubka's indoor pole vault world record
French pole vaulter Renaud Lavillenie broke Sergey Bubka's 21-year-old world record with a clearance of 6.16 metres.
Last Updated: 15/02/14 10:50pm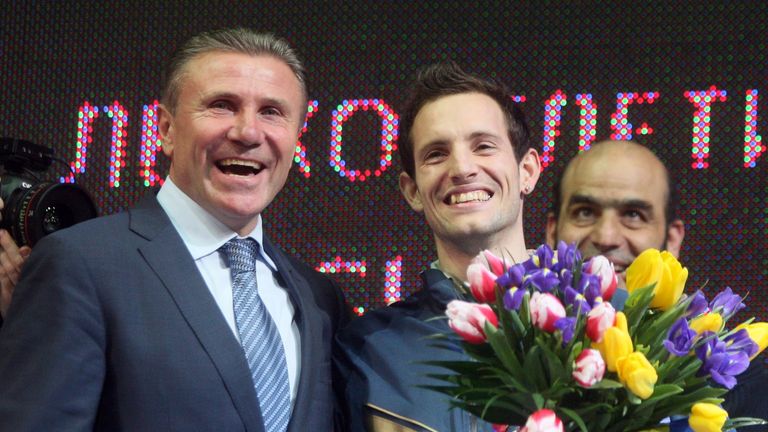 Bubka was in the stands in his home city of Donetsk - were he had set the previous record of 6.15 in 1993 - and applauded Lavillenie who is the reigning outdoor Olympic champion as he cleared 6.16.
Bubka still holds the outdoor record of 6.14, though he believes the Frenchman will eventually surpass that too.
Bubka revealed the two men had discussed the potential for the indoor record to fall the previous evening and said: "It's great, a historical moment. It's really an incredible performance.
"I'm very happy I passed the baton to such a great athlete and such a great personality and role model.
"I always felt it can happen. I hoped it would be soon. He has taken another step. He has moved to another level, he's ready."
Mythical
Lavillenie said: "For me, Bubka remains one of the best athletes of all time of course in pole vault, but in track and field in general. And to think that I've beaten him, it was unthinkable just a few years ago.
"I had 10 great days of training, so I knew coming in that I was in good shape, my warm up was perfect. I felt like I really could to do something - perhaps not doing it so easily.
"I think it's going to take me some time to come back to earth because it's incredible.
"This is a world record that is so mythical, and to clear it on the first jump, without touching (the bar), there's nothing to say. It's just a moment to savour."
He cleared the bar by some margin and could easily have beaten the record by even more.
Holding his head in his hands in disbelief, Lavillenie looked wild-eyed and then pumped his arms in delight, before running with his arms outstretched to soak up the atmosphere.
"I almost didn't know what was happening," Lavillenie said. "I lifted off the ground. I went over the bar, and then what? Loud noise, everybody's hugging you - it's simply incredible."
Lavillenie's coach Philippe D'Encausse was not surprised.
"I'm convinced that, over the last 15 days, he's been thinking about this every morning," D'Encausse said. "This guy is passionate about sport, and I think that's a good example for young athletes."