Anniversary Games take to streets of London
The Anniversary Games will take to the streets of London this year at Horse Guards Parade Ground and The Mall.
Last Updated: 05/05/14 1:10pm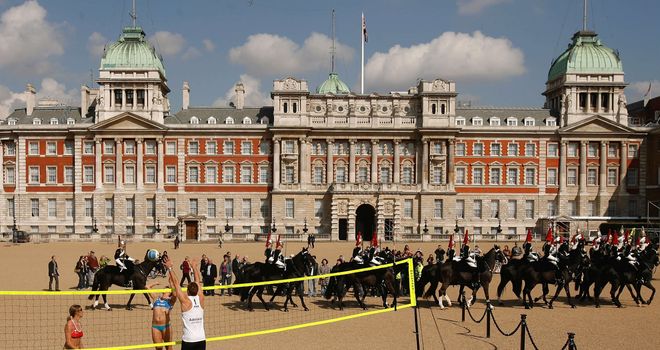 The landmarks will stage pole vault, long jump and shot put competitions and track races over two sessions in front of a crowd of 20,000 on July 20.
The event, which commemorates the anniversary of the opening ceremony of the 2012 London Olympics, took place at the Olympic Stadium last year.
But the stadium will be undergoing redevelopment this summer and the exact date of the anniversary - 27 July - is unavailable because it clashes with the start of the athletics programme at the Commonwealth Games in Glasgow.
Boris Johnson, Mayor of London, said: "Last year's sell-out Sainsbury's Anniversary Games were yet another great example of how London is now a natural home for international sport.
"This year's return is a golden opportunity to see our Olympic and Paralympic superstars in action set against the spectacular backdrop of Horse Guards Parade Ground and The Mall in St James's Park."
Olympic long jump champion Greg Rutherford, who last month set a new British record of 8.51 metres, will compete in the event.
Helping to launch it, he said: "It's a great place to be and I think it's going to be incredibly special to hold the Sainsbury's Anniversary Games here.
"It's one of the most iconic parts of London and you just have to look at the backdrop of Horse Guards to see the London Eye and just around the corner we've the Queen sipping on her tea.
"By the time I come to compete, I will be in the best shape of the year and I'll be looking to jump far here."
Horse Guards Parade was spectacular success as a venue during the Olympics, providing a dramatic setting for the beach volleyball.