Commonwealth Games: Jess Ennis-Hill backs Katarina Johnson-Thompson
Jessica Ennis-Hill has backed Katarina Johnson-Thompson to challenge for heptathlon gold at the Commonwealth Games.
Last Updated: 22/05/14 9:36am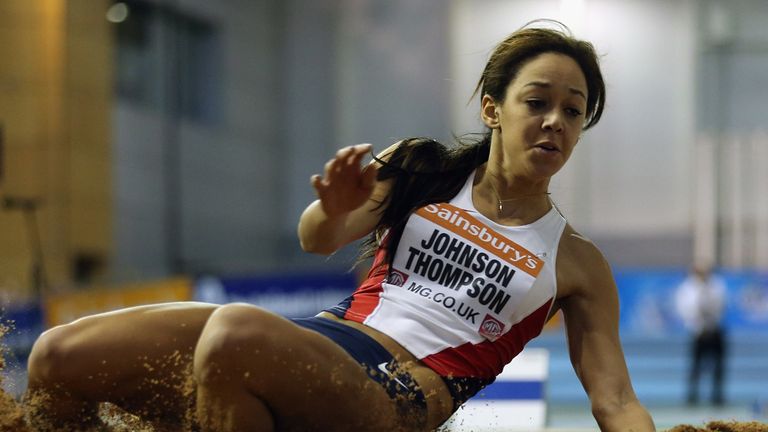 Ennis-Hill will miss the Glasgow event as she is expecting her first baby but she has been monitoring Johnson-Thompson's progress and is convinced she has a chance of glory.
Liverpool Harriers athlete Johnson-Thompson finished 15th in the London 2012 heptathlon as a 19-year-old but has been in good form this year.
"I honestly think that Katarina is in with an excellent chance," said Ennis-Hill.
"She's had a fantastic indoor season and I've seen some of her scores and events and they are going really well, so I think she's going to be a real medal contender for the gold.
"Obviously I'd love to be there myself but I clearly have other things to focus on. The next best thing though would be for someone else from the (British) team to take the gold.
"It just shows how strong the event is, it's always been a strong event in our country, and you can see from the youngsters that are coming through and what Kat's doing that it will continue to be a strong event."
Ennis-Hill is still revelling in the afterglow of success in London and believes Glasgow will benefit from a similar feel-good factor
"It will bring back memories of London, Glasgow will do a fantastic job, I've been up and seen the facilities, it all looks great so it will be a really special Games," she added.
"It's a great feeling to think back to those two days in London where everything came together for me, it's something I had dreamed of since I came into athletics.
"So for that to become a reality at a home Games was just incredible, and I have those fantastic memories with me forever now.
"It's strange because it's nearly two years ago but people do still stop me in the street, it's still fresh in people's minds.
"Everyone enjoyed watching it, there was an amazing atmosphere and buzz, and I'm sure it will be the same in Glasgow this year."