Jess Ennis is determined to regain her World heptathlon crown and inspire more girls to get involved in sport
Jessica Ennis is determined to regain her World heptathlon crown and inspire more girls to take up sport.
By Oli Burley - @SkySportsOli
Last Updated: 14/12/12 6:45pm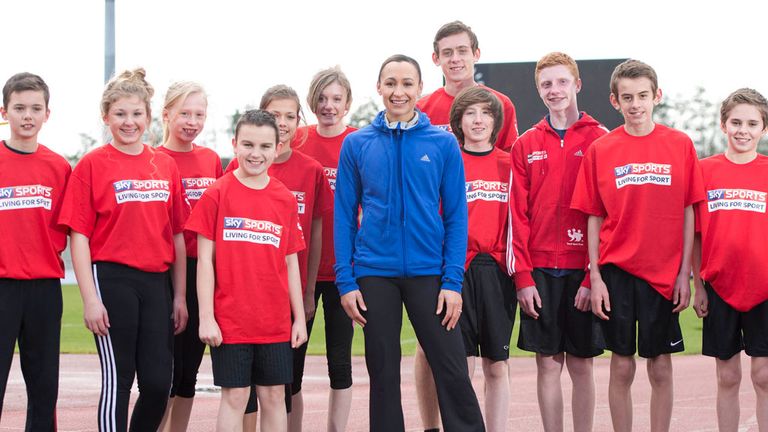 Ennis, 26, finished 129 points behind Tatyana Chernova in Daegu in 2011 but outclassed a field that included the Russian on her way to victory at London 2012.
However Ennis, who today begins her role as an Ambassador for Sky Sports Living for Sport, says that she still has unfinished business.
"Missing out on a gold medal in Daegu last year was a real key part of my career so far - it was a huge disappointment and it gave me so much more drive and determination to push on this year and make sure that I was where I needed to be at the home Olympics," she told Sky Sports Living for Sport.
"It's also going to give me the energy and determination to push on for next year in Moscow. I'd love to go there and get that title back and come away with that gold medal, so it's definitely going to inspire me and push me on."
Improvements
Ennis piled up 6,995 points at London 2012 - the second best tally in Olympic history - and now has her sights on becoming only the fourth woman to break the 7,000-point barrier.
The former European and World heptathlon champion says the goal is possible if she can improve in all disciplines, but intends to focus in particular on bettering her personal bests in the long jump (6.51cm) and the high jump (1.95cm).
"I think at this stage I've got to be making improvements in small areas," she reflected, "so the high jump is an event that we've been looking at because it's not been where I've wanted it to be this year. So we'll go back and look at that and try to get it back up to where it needs to be.
"The long jump is another event that is a key event to make more improvements and get more points. But generally it's about keeping the events where they are and adding little bits."
Get Involved
Ennis hopes that through her new role as an Ambassador for Sky Sports Living for Sport, a free secondary schools initiative run in conjunction with the Youth Sport Trust that uses sport stars and skills to improve pupils' confidence and skills, she can inspire more children to get involved in sport and achieve their goals - just as she did.
"I got into the heptathlon by coming to a summer camp at Don Valley," she explained. "It was a two-week summer camp that they put on in the summer holidays. It was an opportunity to try all of the different events; it was my first taste of athletics and I absolutely loved it. Then I moved onto training with the City of Sheffield training club and trained once or twice a week.
"So if you want to get involved in Heptathlon, my advice to you would be to get down to your local track - whatever city that might be in - and try the different events, see what you enjoy and see what you're good at and then link up with a club in your area."
Inspired
Last week a Sport England study showed that 15.5 million people aged 16 or above are now playing sport at least once a week - a rise of 750,000 across the year, over two thirds of whom are women - while 1.57 million more people are participating than when London won the right to host the Olympics and Paralympics in 2005.
Ennis hopes the achievements of fellow sporting heroines such as Olympic flyweight gold-medallist Nicola Adams and swimmer Ellie Simmonds, a four-time Paralympic champion, will inspire women of all ages to get involved beyond the short-term.
"I think the Olympics and Paralympics has brought so many amazing women to the forefront of people's minds and inspired so many young girls around the country," she said.
"The likes of Ellie and Nicola, who have just performed amazingly this year across a broad range of sports, are just inspiring. I think it's going to make a huge difference in the next few years."
Find out more about Sky Sports Living for Sport - including how you can sign your school up to the initiative - by visiting www.skysports.com/livingforsport.