Toni Minichiello reveals Jessica Ennis could help meet his financial shortfall
Toni Minichiello has revealed Jessica Ennis could help to meet the financial shortfall he faces.
Last Updated: 25/01/13 8:11am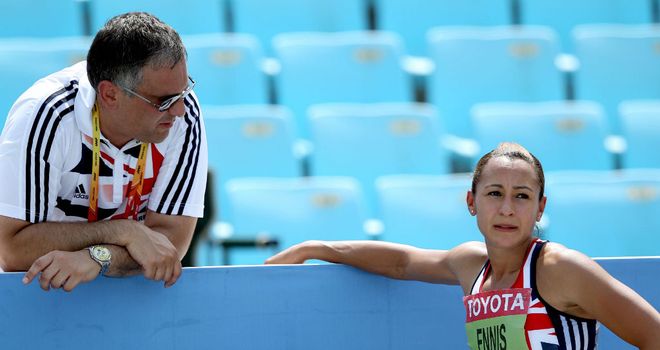 This week Minichiello revealed that he is in talks with UK Athletics over a new role, as he became a high-profile casualty of the governing body's restructuring plan, around a single High Performance Institute in Loughborough.
Ennis intends to remain at a training base in her home city of Sheffield, with Minichiello planning to stay with her.
Having been named coach of the year in November by the national coaching organisation, SportsCoachUK, Minichiello has no other Olympic or world medallists in his training group, which means he will not be due a full-time salary.
He is expected to be offered a consultancy role on reduced terms working specifically with Ennis.
On Thursday, he confirmed the possibility of Ennis paying for his expertise has been raised.
Minichiello told Radio Five Live: "I think there is that as an option. There is that discussion."
The coach believes he risks suffering for only having one big-name athlete under his wing.
He added: "The unfortunate thing for me, and this is what hasn't changed if you're talking about (Olympic) legacy, is how British coaching is viewed.
"And if British coaching and coaches are only going to be judged by results alone or the people they're associated with at the time - I'm good because I'm coaching Jessica Ennis.
"But because I coach other young kids who are involved in the sport but are not on funded programmes, because I coach them if I was measured on them I wouldn't be good.
"We're not judging coaches for coaching; we're judging it based on who is the most interesting name stood next to you at the time. That's something you see across all sports."