Oscar Pistorius to face court on murder charge after girlfriend shot dead at his home
Paralympic superstar Oscar Pistorius has been charged with murder after his girlfriend was shot dead at his home.
Last Updated: 15/02/13 6:44am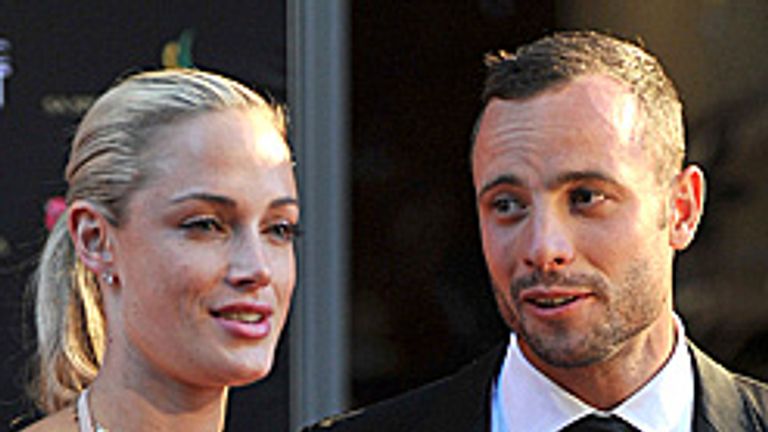 The 26-year-old, a national hero in his home country of South Africa, is due to appear in a Pretoria court at 7am (GMT) on Friday.
The shooting victim - discovered after the authorities were called to an incident in the Silver Lakes district of Pretoria at 3am - has been confirmed as Pistorius' girlfriend, 30-year-old model Reeva Steenkamp.
And although police would not immediately name the suspect, spokeswoman Brigadier Denise Beukes did confirm Pistorius and the deceased were the only people in the house at the time of the shooting.
Some early local media reports speculated the victim may have been mistaken for an intruder, but Brigadier Beukes said that information had not come from police and investigations remained ongoing.
She also confirmed any application for bail would be opposed by police.
Pistorius, who races wearing carbon fibre prosthetic blades after he was born without a fibula in both legs, was the first double amputee to run in the Olympics.
The athlete reached the 400m semi-finals in the London 2012 Olympics and won gold in the T44 400m, setting a Paralympic record.
The Johannesburg-born runner, who had his limbs amputated below the knee when he was 11 months old, had to win a 2008 legal battle with the International Association of Athletics Federations (IAAF) for the right to race in able-bodied competition.
Charge
"A 26-year-old man has been arrested and has been charged with murder," police spokeswoman Brigadier Denise Beukes said.
"At this stage he is on his way to the district surgeon for a medical examination and he will be appearing at Pretoria magistrates' courts at 2pm this afternoon."
Beukes said police were aware of media reports the death may have been an accident, caused by suspicions of a break-in, but said that those reports did not come from information provided by police.
"There was no sign of forced entry or persons who weren't supposed to be there at this stage," she said.
"The South African Police Service was surprised to hear allegations on the radio this morning that the deceased had been perceived to be a burglar. The allegations did not come from us. The deceased was a friend of his."
She added: "There are witnesses and they have also been interviewed this morning.
"We're talking about neighbours and people that heard things that happened earlier in the evening and when the shooting took place."
Shock
The story has been met with widespread shock throughout South Africa and the rest of the world.
"I am sure (Pistorius) will understand that this is a global story and he'll be in the spotlight," Pistorius' former publicist Jon Ridgeon told Sky Sports News.
"He is a global sports star, he is the man who moved disability sport from a minority interest into the mainstream. So he is a big global figure and he will know this is being reported around the world.
He added: "He was the poster boy for the Paralympics in London last year and over the years he's always delivered in terms of world records and multiple gold medals at the Paralympics.
"He always did it with style and in a graceful and humble way which endeared him to the public."