Judd hungry for success
Ahead of her European Championships semi-final, we spoke to Sky Scholar Jessica Judd about her season so far and her hopes for the future...
Last Updated: 26/03/17 2:28pm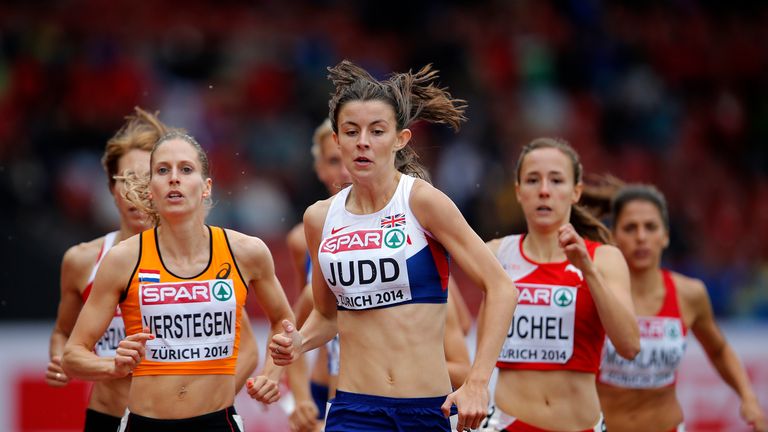 No one can argue with Jessica Judd's determination and her desire to be the very best she can be.
"I want to be better, I don't want to ease off, I don't want to be happy with where I am now," she told Sky Sports ahead of the European Athletics Championships.
The Sky Academy Sports Scholar is aiming to make her second major championship final in the space of three weeks when she goes in the 800m semi-final on Thursday evening and as much of an achievement as that would be for a 19-year-old athlete, Judd wants more.
It's been a really big learning experience and although I'm disappointed with fourth, I couldn't have done any more. I gave it everything
Jessica Judd on Glasgow 2014
A fourth place finish at the Commonwealth Games in Glasgow left Judd with mixed feelings and it is clear that in the coming years that she will consider any repeats to be at least one place below her own lofty expectations. Even now Judd seems to struggle to hide her drive and ambition.
"I always annoy everyone around me because I want to be better and better," she said.
"I think I need to keep driving because the Commonwealths were my aim for the season when I was injured, if I was on the bike, in the pool or just sitting there all I'd be thinking about was the Commonwealths.
"So after it's over it is really hard to regroup. I think that's how it will feel with the major championships in the coming years, they'll be the main focus so I just want to go there and try and get in those finals again because it is such a nice feeling when you do.
"I'm going to work hard and hopefully get better and better, I don't think this is the finished article at all, I'm hoping that I'll come back stronger."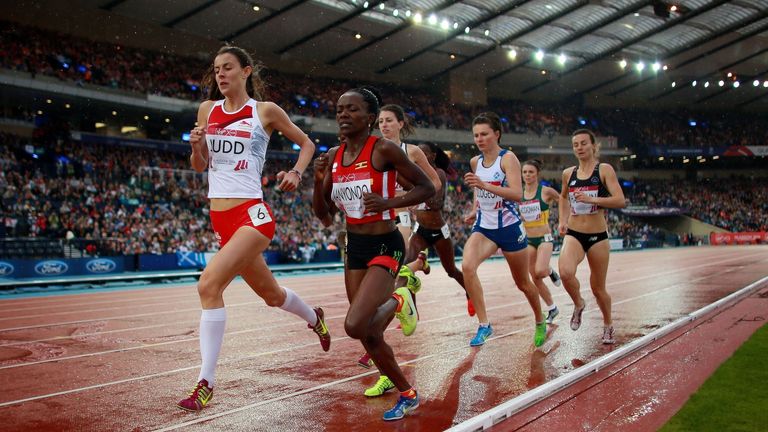 Of course, the teenager still has plenty of years competing ahead of her and, given that the Commonwealth Games was just her second senior major championships, her delight at having come so close to a medal is unsurprising – even if she will demand more from herself in the future.
"I was really happy, I was really nervous before the heats but once I got through the heats I just focused on the semi-final and took every day as it came," Judd explained. "Then after the semi-final, it was so nice to make the final. I felt really, really good in the semi and it was then that I probably started thinking about a medal, just because of how well I ran in that semi-final."
Indeed, that semi-final run was the perfect example of why so much many experts and pundits have such high hopes for the Canvey Island runner. It was a run that belied her tender years as she executed her race plan to perfection, taking the lead down the back straight before kicking again in the final 100m to ease to victory.
"I couldn't believe how well the semi went," she said. "Obviously, it's always hard being in the second semi and watching the first one and seeing what they've done. I looked at the time and I thought that if I wanted to make it as a fastest loser then I had to go out fast.
"I didn't want to particularly take it out, but then after the first lap I thought 'this is too slow, I'll have to move it on' and I made some really good decisions in the race.
"When I finished I just felt so, so strong and I remember warming down afterwards, not talking to anyone, walking straight through, putting my trainers on and warming down because I knew how important it was to keep that feeling going."
Going into the home straight of the final it looked like it was going to be a repeat performance but as Judd attempted to kick again she admitted that her legs had 'died' and she was forced to settle for a creditable fourth place.
"I knew I just had to go out hard in the final, be in the right position at the right time and see what happens – and I did that," she recalled. "I got in as good a position as I could possibly do and I ran the perfect race up until the last 100m and my legs just tired.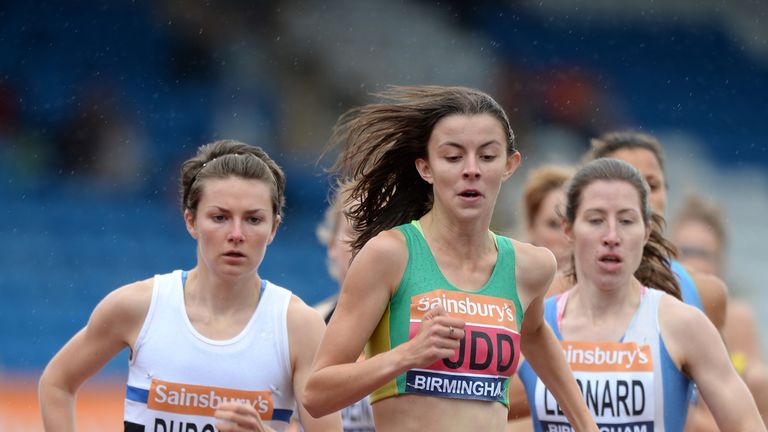 "I could see the three medals in front of me and I was doing everything I could to get there but I couldn't have given any more. I was so tired after it and I'd given it everything, I was so relieved that I hadn't left anything out there on the track, I did everything I possibly could.
"To come fourth was obviously really disappointing at the time because it would have been lovely to have a medal but I couldn't have run a better race, I couldn't have done anything, it was just that my legs had died.
"It's been a really big learning experience and although I'm disappointed with fourth, I couldn't have done any more. I gave it everything."
I always annoy everyone around me because I want to be better and better
Jessica Judd
A quick turnaround means that a third major championship is already underway for Judd. The GB prospect safely through to the 800m semi-final after finishing third in her heat. Judd had led with 100m to go but tired down the finishing straight, a sign perhaps of the toll Glasgow took on her, especially after an injury-hit winter.
"It's been hard, it took a lot after me the Commonwealths. I had to come home from Glasgow before the closing ceremony to get back into training," said Judd, who has twice gone sub-two minutes this year.
"It's been a hard season really, being injured through the winter and only starting running again in February, it's been tough, it's been very full on. I'm looking forward to doing as well as I can in the Europeans and then really just enjoying myself for the rest of the season.
"Then I think I'll go on holiday because it'd be nice to just relax before I go to university in September. It's been so full on that now I just want to do the best that I can and just have no regrets really."
It would be a well-earned break for Judd but given her desperation to continually progress, it is unlikely to be a long one, and such thoughts will certainly be far from her mind as she enters the track aiming for another major championship final in Zurich on Thursday evening.