Edge of my seat
Louis Smith talks sofa shopping and nervously watching England in Euro 2012 in his latest blog.
Last Updated: 22/06/12 9:34am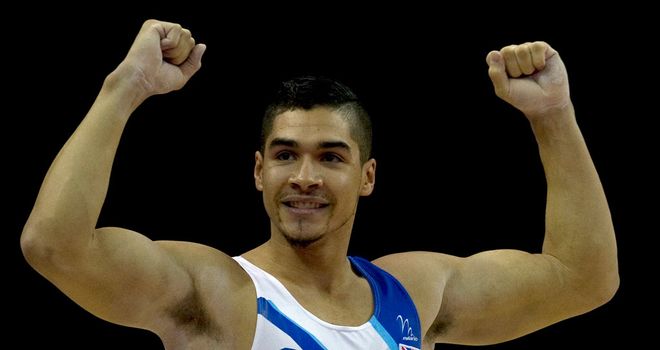 Hi there,
I've just been furniture shopping with my mum looking at some sofas for my new house, these are exciting, and expensive, times!
But the excitement doesn't end there, we've got a big competition at the weekend so we've had a shorter session in the gym, it's the British Championships up in Liverpool - the final competition before the Olympics.
I wouldn't say I'm excited, I'd say I'm quite nervous.
I'm probably going to do my harder pommel horse routine there. But I'm doing pommels, parallel bars and high bar so I'll be doing a couple more apparatus, but I'm looking forward to doing my new routine on the pommel.
Although I specialise in the pommel, I still train on all the other apparatus just to keep me in tip top condition, and it would get a bit tedious if I was just in the gym doing pommel horse every day. But I work hard on the other apparatus as well so hopefully I'll be adding some scores towards the team event.
I'm never going to make a final or win an individual medal with my other apparatus scores, but I just want to do another warm-up so, when I'm at the Olympics, I can get a routine out of the way and do a P-Bars routine just before I'm about to do my pommels.
Just to take the edge off the nerves.
GB kit
There's been a lot of athletes on Twitter with their GB kit after being selected, but I try not to focus on the selection too much, we've got this competition to get out of the way and then we'll soon find out who's in the team - so it's a little bit nail-biting but you've just got to stay focused and not get distracted.
I know that, if selected, we get ours in July, I've seen it and it looks fantastic. I was at the big launch day with Stella McCartney which was fun.
There's been a bit of talk about the colours but I don't agree with the critics at all to be honest. I love the kit, I think it's fantastic so I'm very happy with it and it makes a big difference if you're proud and happy about the kit you're wearing to help you do well.
But first it's Liverpool to concentrate on. I've been to the Echo Arena before so I'm looking forward to it, it should be good fun. I've got friends and family coming up to watch so it should be a good weekend.
Any competition you get to take part in in front of a home crowd is good preparation for this summer.
Focus
It's been really quiet recently, which is just how me and my agent have planned it. We wanted a good six or seven weeks to just focus on the Olympics and not worry about doing media and things like that, so it's been pretty relaxed.
Saying that, watching England at Euro 2012 hasn't really helped me relax too much, it's been nail-biting again hasn't it!
England are hard to watch aren't they! I'm not a huge football fan of a team in the Premier League, but I always watch and support England, but they don't make it easy.
They never seem to do it the easy way and always have you biting your nails right until the end bless them, but let's hope they can go all the way!
Hopefully I'll be watching them win the final on my new sofa...