Jessica Ennis-Hill believes her role for Sky Sports Living For Sport can inspire youngsters
Jessica Ennis-Hill hopes to inspire kids into sport as an ambassador for Sky Sports Living for Sport.
Last Updated: 27/03/14 12:36pm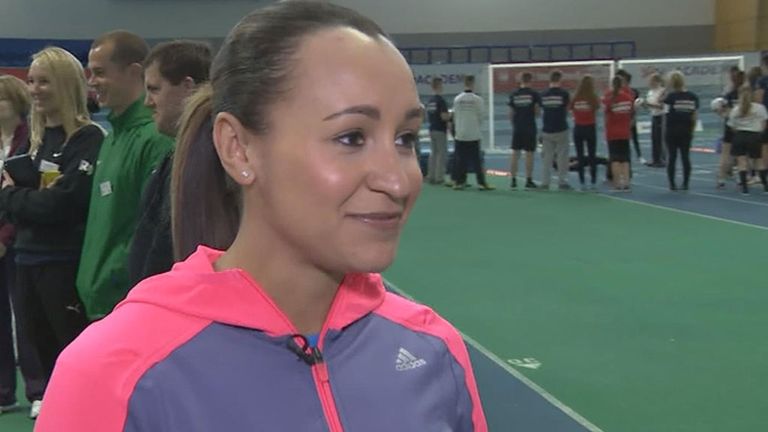 The reigning Olympic heptathlon champion has been hosting a day of workshops for 300 youngsters from 15 secondary schools at the English Institute of Sport in Sheffield, and she said: "It's about inspiration.
"Sky Sports Living for Sport is not about finding the next champion, it's about introducing kids to sport across the country and showing them how it can benefit and impact their whole life.
"Getting into sport can make a real difference to them whether they decide to be a coach or work in admin - whatever they do.
"This was an idea I've had for a while to get as many schools together as possible and just give them the opportunity to meet some amazing mentors from a range of different sports, and to try different events.
"I take a lot from it, having got involved from a young age myself. It's completely transformed my life and given me new opportunities and the ability to go on to win medals and major championships."
The students won the chance to take part in this special SSLFS event, which is also hosted by former Olympic sprinter Darren Campbell, and it focuses on building key life skills through a series of sessions and activities run by SSLFS athlete mentors, projects leaders and Sheffield/Leeds Sky staff volunteers.
Sky Sports Living for Sport is a free initiative for all secondary schools that uses sports stars and skills to improve the lives of young people across Britain and Ireland.
"This is the first time we have done anything like this," Campbell said. "Sky Sports Living for Sport has now been going for over five years. I've been an ambassador for that time, Jessica joined us this year and David Beckham joined us too.
"When Jessica became an ambassador, she decided to do something for her local community and also for young people from across the country, bringing 300 people to the EIS in Sheffield and hopefully they are going to have a fun, inspiring, fantastic day."