Athletics: Asafa Powell has been banned for 18 months following a doping offence
Former world 100m record holder Asafa Powell has been banned for 18 months after being found guilty of a doping offence.
Last Updated: 10/04/14 7:18pm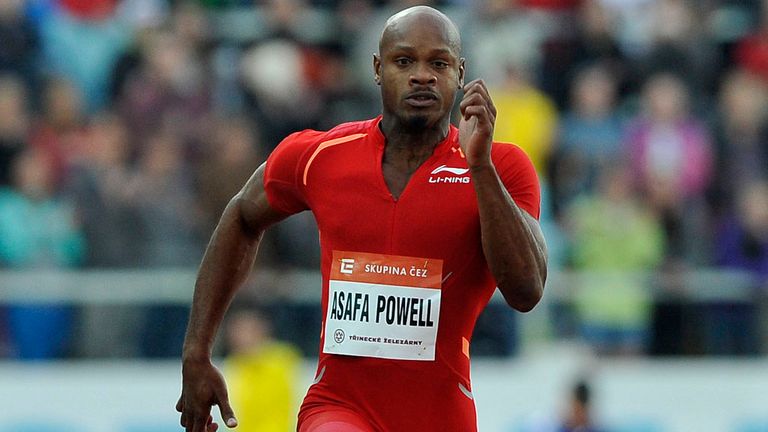 The 31-year-old Jamaican tested positive for the banned stimulant oxilofrone at his country's national trials last June - and had been suspended from competition since the case was disclosed a month later.
A panel of the Jamaica Anti-Doping Commission announced their decision on Thursday in Kingston.
Powell, who describes their decision as "unfair" and "unjust", has revealed he will appeal the ban to the Court of Arbitration for Sport.
His suspension began from the date of his sample collection on June 21, 2013, which means he will be eligible to return to competition on December 20 this year.
Powell said in a statement: "This ruling is not only unfair, it is patently unjust.
"Panels such as these, I understood, were assembled to allow athletes who consciously or unconsciously come into conflict with the rules of sport a chance at equitable redemption. Unfortunately, this was not the case.
"My team commissioned two private laboratories that confirmed that oxilofrine was present in the supplements, despite it not being listed as an ingredient on the bottle nor on its website.
"This is the first time in nearly 12 years of being in the sport and over 150 tests that I have had an adverse finding.
No performance-enhancing effects
"It is for a stimulant that is only banned during competition and experts have declared has no performance-enhancing effects.
"Sanctions for a stimulant and this kind of infraction usually range from public warnings to a ban of three months, six months in the most extreme cases.
"My team has begun preparations for an appeal to the Court of Arbitration for Sport in Switzerland."
If upheld, the ruling means Powell will miss this summer's Commonwealth Games in Glasgow.
Lennox Gayle, chairman of the three-member disciplinary panel, added: "We arrived at a unanimous decision and it is a decision that Mr Powell was found to be negligent and that he was at fault, especially since he is an elite athlete."
Earlier in the week fellow Jamaican Sherone Simpson was also banned for 18 months after being found guilty.
Powell set a world best 9.74 in September 2007, a record beaten by his compatriot Usain Bolt the following year.
Powell has never won an individual gold medal at either the Olympic Games or World Championships, but did win the 100m at the 2006 Commonwealth Games in Melbourne.
He will be 32 by the time his suspension ends later this year.