Washington Nationals are four wins away from the National League East title after an 8-4 win over the Philadelphia Phillies
The Washington Nationals moved closer to the National League East title with an 8-4 win over the Philadelphia Phillies
Last Updated: 27/09/12 8:11am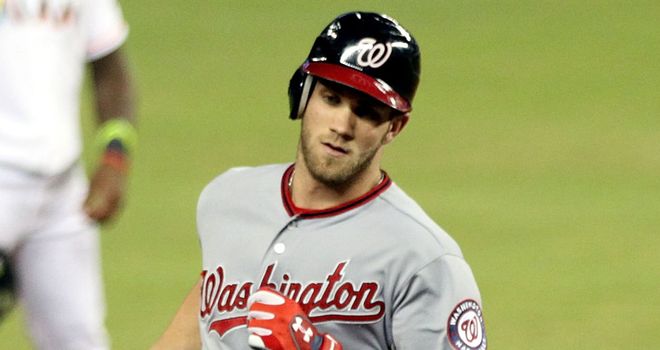 Davey Johnson's side leads the Atlanta Braves by four games going into the last week of the regular season.
They got off to a flyer against beleaguered Phillies starter Kyle Kendrick, whose outing lasted only two innings and cost him five runs.
Kendrick gave up two-run homers to Bryce Harper and Kurt Suzuki and a solo shot to Ian Desmond before leaving the game with a 5-0 deficit.
Harper became only the second teenager to hit 20 home runs in a season, joining Tony Conigliaro for a place in the major league history books.
To their credit, the Phillies rallied to score the next four runs, spread across six innings, with B.J. Rosenberg batting in one and adding a second on an error.
But their hopes of a comeback ended in the top of the ninth when Jayson Werth plated two runners with a single and Harper's single was enough to see Werth score.