MLB: Miguel Cabrera signs blockbuster deal with Detroit Tigers
Miguel Cabrera has signed a record-breaking deal to remain with the Detroit Tigers for the next 10 seasons.
Last Updated: 28/03/14 8:52pm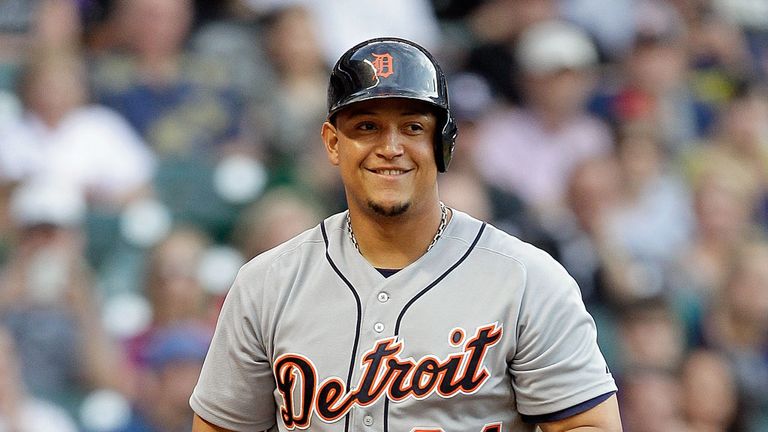 The Triple Crown winner has agreed terms on an eight-year extension to his contract, and he is set to earn an astonishing $292million until the end of the 2023 season.
The Venezuelan slugger will be paid $44m over the final two years of his current deal, and he will then enter a new $248m eight-year contract - a new record for Major League Baseball.
Cabrera's yearly average salary of $31m is almost $300,000 more than Los Angeles Dodgers pitcher Clayton Kershaw, while the overall deal beats the previous record set by Alex Rodriguez.
The controversial New York Yankees third baseman signed a 10-year deal worth $275m in 2007.
Cabrera, who turns 31 next month, is set to earn around $46,000 every time he walks to the plate - a figure based on his season average of 676 at bats.
The Tigers recently offered Cy Young Award winner Max Scherzer a six-year contract worth $144m, but he turned it down as he looks to test the free agency market at the end of this season.
Cabrera won the Triple Crown in 2012, when he became the first player since Boston's Carl Yastrzemski in 1967 to lead either league in batting average, home runs and RBIs.
He has been voted the American League MVP for both of the last two seasons - the first man to do so since Frank Thomas 20 years ago.
Cabrera led the Major League with his .348 batting average last season, while his 44 home runs and 137 RBIs were second only to Baltimore's Chris Davis.
The former Florida Marlin could have won all three MLB titles had he not missed 13 games due to back and hip injuries, while he also suffered a torn groin muscle that required surgery in the off-season.