MLB: Ron Gardenhire wins 1,000th game as a manager as Twins beat Indians
Last Updated: 06/04/14 8:58am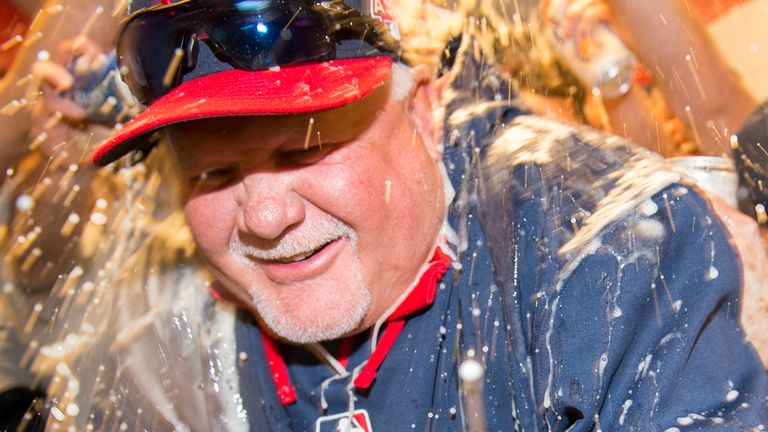 The Minnesota Twins jumped out to a great start as they gave Ron Gardenhire his 1,000th win as a manager, beating the Cleveland Indians 7-3.
Brian Dozier's lead-off home run helped them to an early 3-0 lead and there was no way back for Cleveland against right-hander Kyle Gibson.
Felix Hernandez tossed 8 1/3 innings of one-run ball to led the Seattle Mariners to their fourth win in the opening five games as they saw off the Oakland Athletics 3-1.
Dustin Ackley and Abraham Almonte both homered for Seattle in the fifth inning to give Hernandez all the run support he needed.
Mike Napoli hit a three-run homer before Logan Schafer's go-ahead double off former Brewer Burke Badenhop proved decisive as Milwaukee edged the Boston Red Sox 7-6 in 11 innings at Fenway Park.
Julio Teheran gave up two runs in seven solid innings, and the Atlanta Braves produced a four-run fifth inning to topple Washington 6-2 at Nationals Park.
RA Dickey and the Toronto Blue Jays bullpen combined to shut out the New York Yankees 4-0 as Melky Cabrera and Jose Bautista hit home runs, while veteran Torii Hunter collective five RBI as the Detroit Tigers edged the Baltimore Orioles 7-6.
An RBI double from Salvador Perez in the bottom of the eighth inning gave the Kansas City Royals a 4-3 win over the Chicago White Sox, while Pablo Sandoval and Buster Posey each homered in the fifth inning as the San Francisco Giants beat arch rivals the Los Angeles Dodgers 7-2.
Cliff Lee recovered from his horror show on opening day with seven shutout innings as the Philadelphia Phillies beat the Chicago Cubs 2-0 behind a homer from Chase Utley, while a walk-off grand slam from Ike Davis gave the New York Mets a dramatic 6-3 triumph over the Cincinnati Reds.
In other games, the St Louis Cardinals saw off the Pittsburgh Pirates 6-1, the Los Angeles Angels overcame the Houston Astros 5-1, the Colorado Rockies defeated the Arizona Diamondbacks 9-4, the Miami Marlins were 5-0 winners against the San Diego Padres and the Tampa Bay Rays scraped past the Texas Rangers 5-4.