MLB: Masahiro Tanaka shines as New York Yankees topple Seattle Mariners
Last Updated: 12/06/14 11:51am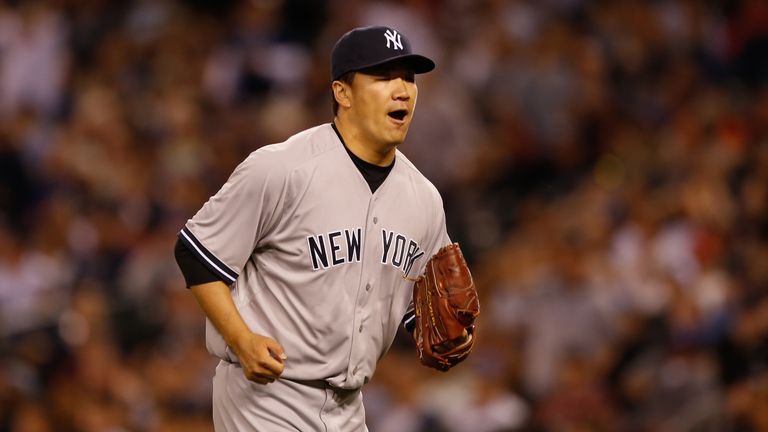 Japanese right-hander Masahiro Tanaka tossed a complete game Wednesday night as New York Yankees beat Seattle Mariners 4-2 on Wednesday.
The victory gave Tanaka his 10th win and fourth in four games. The performance was on the verge of being his best all season before giving up a two-run homer to Robinson Cano in the ninth.
Wednesday's MLB results:
Orioles 6 Red Sox 0
White Sox 8 Tigers 2
Reds 5 Dodgers 0
Rockies 8 Braves 2
Astros 5 Diamondbacks 1
Royals 4 Indians 1
Angels 1 Athletics 7
Mets 1 Brewers 3
Phillies 3 Padres 0
Pirates 4 Cubs 2
Giants 2 Nationals 6
Mariners 2 Yankees 4
Rays 6 Cardinals 3
Rangers 6 Marlins 0
Blue Jays 2 Twins 7
The two-run shot only strengthened Tanaka's resolve and he finished off his second complete game of the season by striking Kyle Seager and Logan Morrison.
American League east leaders Toronto Blue Jays suffered their second straight loss, going down 7-2 to Minnesota Twins.
Baltimore Orioles closed to within 4.5 games of the Jays following a 6-0 shutout of Boston Red Sox, who are now nine games behind the pacesetters.
Tampa Bay Rays secured just their 25th win of the season after getting the better of St Louis Cardinals 6-3, although they remain bottom of the AL East.