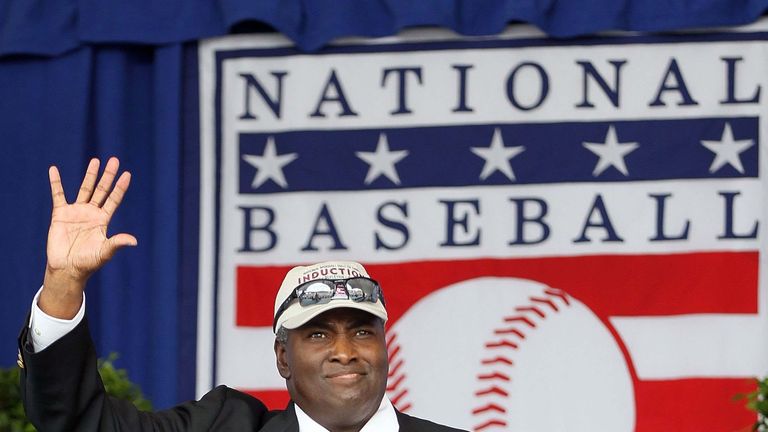 Hall Of Fame hitter Tony Gwynn has died at the age of 54 after a battle with mouth cancer.
Gwynn enjoyed a 20-year major league career, spending all of it in San Diego to earn the nickname 'Mr Padre'.
He had been on medical leave from his job as coach with San Diego State University as he received treatment for the cancer which he blamed on years of chewing tobacco and meant him twice having surgery on tumours in his right cheek.
His career came to an end in 2001 after 3,141 hits and he finished with an incredible .338 batting average, enough to win the batting title on eight occasions, tied for the record with the legendary Honus Wagner.
Gwynn's .394 average in 1994 is the closest anyone has come to breaking the .400 barrier since Ted Williams did it in 1941.
Commissioner Bud Selig said in a statement: "Major League Baseball today mourns the tragic loss of Tony Gwynn, the greatest Padre ever and one of the most accomplished hitters that our game has ever known, whose all-around excellence on the field was surpassed by his exuberant personality and genial disposition in life.
"Tony was synonymous with San Diego Padres baseball, and with his .338 career batting average and eight batting titles, he led his beloved ballclub to its greatest heights, including two National League pennants.
"Tony loved our game, the city of San Diego and his alma mater where he starred and coached, San Diego State University, and he was a part of a wonderful baseball family.  His commitment to the children of San Diego made him a deserving recipient of our game's highest off-field honor, the Roberto Clemente Award, in 1999.
"For more than 30 years, Tony Gwynn was a source of universal goodwill in the National Pastime, and he will be deeply missed by the many people he touched. 
"On behalf of all of our clubs, I extend my deepest condolences to Tony's wife Alicia, their son Tony Jr. of the Phillies, their daughter Anisha, the Padres franchise, his fans in San Diego and his many admirers throughout baseball."