MLB: Tampa Bay Rays in sight of their 12-game record run after Red Sox win
Last Updated: 27/07/14 10:20am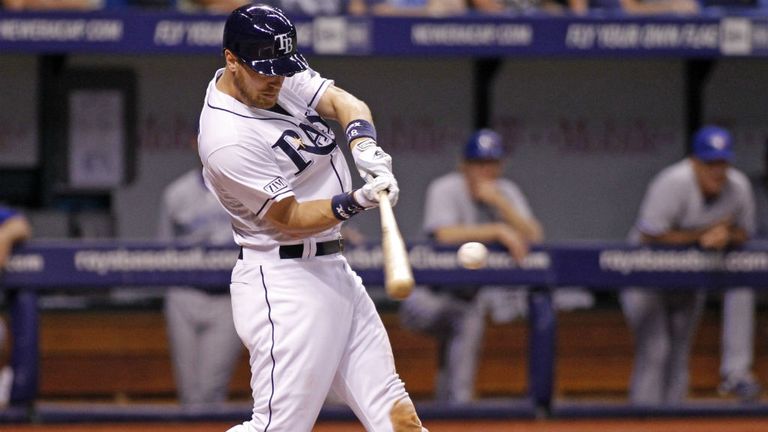 Tampa Bay Rays are now just three wins short of their record winning run after beating the Boston Red Sox 3-0 at Tropicana Field in St Petersburg.
Ben Zobrist's homer was the highlight of the game while Matt Joyce and Kevin Kiermaier each struck an RBI single to help the Florida outfit on their way to a ninth consecutive victory and in sight of their 12-game winning streak set in June 2004.
MLB results:
Braves 5 Padres 3
Cubs 3 Cardinals 6
Reds 1 Nationals 0
Rockies 8 Pirates 1
Astros 3 Marlins 7
Royals 7 Indians 5
Angels 4 Tigers 0
Brewers 5 Mets 2
Twins 0 White Sox 7
Yankees 4 Blue Jays 6
Phillies 6 Diamondbacks 10 (10 Innings)
Giants 0 Dodgers 5
Mariners 4 Orioles 3
Rays 3 Red Sox 0
Rangers 1 Athletics 5
The Kansas City Royals also continued their winning run going as they hit back from a five-run deficit, with Billy Butler thumping a homer in his second game in a row, to edge out the Cleveland Indians 7-5 for their fifth successive win on the spin.
Clayton Kershaw claimed his ninth career shutout as the Los Angeles Dodgers moved above the San Francisco Giants in the NL West with a 5-0 victory.
Kershaw struck out seven, while Adrian Gonzalez's three hits and an RBI helped condemn the Giants to a third successive defeat.
Matt Shoemaker allowed just three hits over seven innings while Efren Navarro bludgeoned his first homer in the MLB to help the Los Angeles Angels beat the Detroit Tigers 4-0.
Alexei Ramirez whacked his 10th homer of the season as the Chicago White Sox bleached the Minnesota Twins 7-0.
Cubs setback
However, their crosstown rivals the Chicago Cubs suffered a 6-3 setback against St Louis, for whom Matt Adams drove in four runs.
The Seattle Mariners held off a late rally from Baltimore, who scored three runs in the ninth inning, to edge to a 4-3 victory over the Orioles, while Josh Donaldson and Josh Reddick hammered solo homers to lift Oakland to a 5-1 victory over the Texas Rangers.
Brayan Pena's RBI single in the fifth inning was the only score as the Cincinnati Reds squeaked past the Wasington Nationals 1-0 to end a seven-game losing streak.
Milwaukee hit back from a two-run deficit to storm to a 5-2 win over the New York Mets, whose city rivals the Yankees were beaten 6-4 by Toronto, ending the Blue Jays' run of 17 straight defeats at Yankee Stadium.
Nolan Arenado's three hits, which included a homer, helped the Colorado Rockies to an 8-1 victory over the Pittsburgh Pirates, Giancarlo Stanton's three-run double propelled the Miami Marlins to a 7-3 triumph over the Houston Astros, the Atlanta Braves claimed a 5-3 success over the San Diego Padres and the Arizona Diamondbacks ran out 10-6 winners over the Philadelphia Phillies.