MLB: The Oakland Athletics bounce back to move joint-top of American League West
Last Updated: 26/08/14 8:34am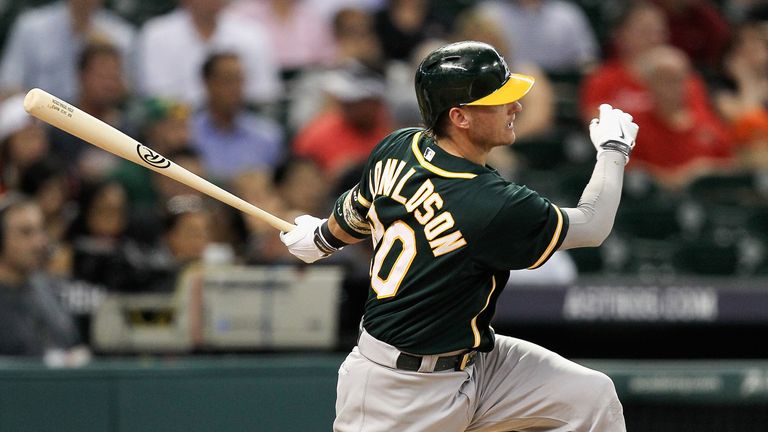 The Oakland Athletics moved level with the Los Angeles Angels at the top of American League West after beating the Houston Astros 8-2.
Josh Donaldson knocked in three runs and Jeff Samardzija struck out 10 Astros, though a five-run ninth inning gave the scoreline a slightly misleading look.
Regardless, the A's now share the best record in the Majors with their divisional rivals the Angels, who lost 7-1 to the Miami Marlins. Giancarlo Stanton's three-run blast essentially put the game to bed as early as the fourth inning.
Elsewhere in the AL West, the Texas Rangers beat the Seattle Mariners 2-0.
The Baltimore Orioles cemented their position at the AL East summit with a 9-1 hammering of the Tampa Bay Rays.
The O's had two successive homers in the third inning from Nick Markakis and Steve Pearce, and three in the fifth thanks to Delmon Young, JJ Hardy and Chris Davis.
Nearest pursuers the New York Yankees won 8-1 against the Kansas City Royals, Michael Pineda giving up just one run while Stephen Drew, Martin Prado and Jacoby Ellsbury cleared the boards.
Surprise
The Toronto Blue Jays lost 4-3 in 10 innings to the Boston Red Sox, Yoenis Cespedes scoring Brock Holt for the decisive run.
There was a surprise defeat for National League East leaders the Washington Nationals, who lost 3-2 to division basement side the Philadelphia Phillies.
AJ Burnett struck out 12 batters and allowed just three hits, while Cody Asche and Carlos Ruiz both hit homers.
NL Central leaders the Milwaukee Brewers eased to a 10-1 win over the San Diego Padres. Aramis Ramirez drove in three runs including a solo homer, while Ryan Braun also went long.
The St Louis Cardinals strengthened their hold on second place with a 3-2 win over nearest rivals the Pittsburgh Pirates, Matt Holliday with a decisive two-run single.
The San Francisco Giants slipped five games behind NL West leaders the Los Angeles Dodgers after losing 3-2 to the Colorado Rockies.