MLB Review: Washington Nationals hammer Felix Hernandez to beat Seattle Mariners
Last Updated: 30/08/14 8:28am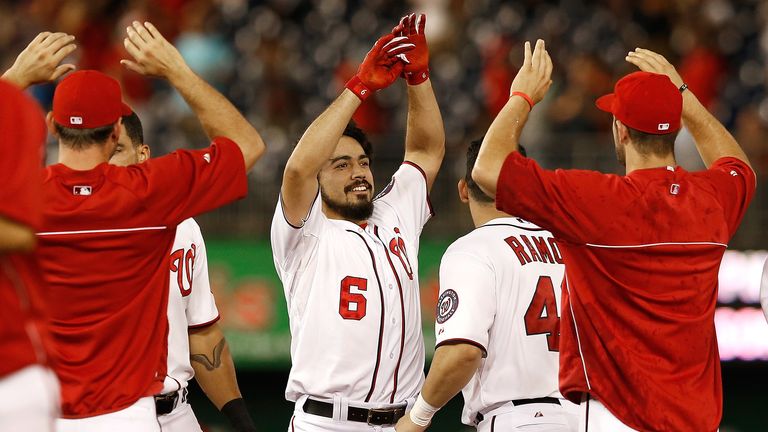 National League East leaders the Washington Nationals hit six home runs, four of them off Felix Hernandez, in an 8-3 MLB win over the Seattle Mariners.
Wilson Ramos cleared the boards twice and Jayson Werth hit a two-run shot, while Anthony Rendon, Ian Desmond and Bryce Harper also went yard.
Nearest pursuers the Atlanta Braves won 5-2 against the Miami Marlins, Justin Upton with a two-run homer.
The leading pair in the NL Central, the Milwaukee Brewers and St Louis Cardinals, were both beaten.
Milwaukee were routed 13-2 by the San Francisco Giants while Jorge Soler continued his blistering start to life as a Chicago Cub with two home runs in a 7-2 win over the Cards. Soler has three homers in as many games after going long in his first career at-bat on Wednesday.
The third-placed Pittsburgh Pirates took advantage with a 2-1 win over the Cincinnati Reds, Josh Harrison driving in one run before jogging home for the other.
Yasmani Grandal was the hero as he singled the winning run, with two outs, as the San Diego Padres edged out NL West leaders Los Angeles Dodgers 3-2.
Jeremy Lamb's grand slam lifted the Arizona Diamondbacks over the Colorado Rockies 5-2 while Jacob deGrom pitched the New York Mets to a 4-1 win over the Philadelphia Phillies.
The Los Angeles Angels continued to turn the screw on the Oakland Athletics in the race for the American League West title with a 4-0 win.
Home runs from Chris Iannetta and Albert Pujols gave the Angels a second successive win over their divisional title rivals and a fourth straight in total, taking them three games clear.
The Detroit Tigers closed to within half a game of AL Central leaders the Kansas City Royals with a 7-1 win over the Chicago White Sox. Justin Verlander gave up only one run in seven innings and Ian Kinsler and Torii Hunter drove in two runs apiece.
Kansas City went down 6-1 to the Cleveland Indians, Carlos Santana with a two-run homer and an RBI single.
The Baltimore Orioles recorded their fourth win in five days as Chris Davis' grand slam set up a 9-1 success against the Minnesota Twins.
The O's remain seven games clear in the AL East ahead of the New York Yankees, who beat the Toronto Blue Jays 6-3. Jacoby Ellsbury hit a two-run homer in a five-run seventh inning.
There were runs galore for rookies as Mookie Betts hit a grand slam in the Boston Red Sox's 8-4 win over the Tampa Bay Rays while Rougned Odor and Michael Choice had three-run shots in the Texas Rangers' 13-6 win over the Houston Astros.