Phillips on song as Reds win postseason opener
The Cincinnati Reds survived the early loss of star pitcher Johnny Cueto to beat the San Francisco Giants 5-2.
Last Updated: 10/10/12 8:04am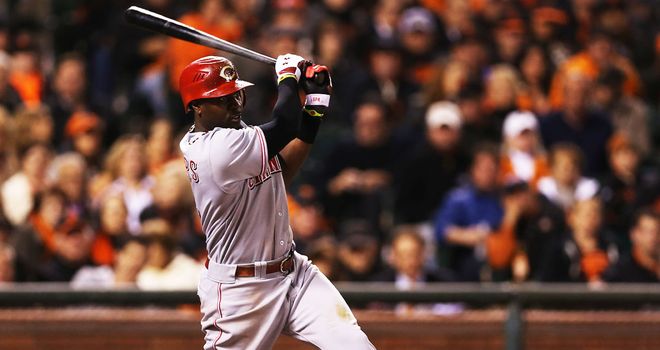 Cueto had to leave the game after throwing just eight pitches, due to back spasms, but the Reds overcame his absence to claim a first postseason victory since 1995, with Brandon Phillips leading the way.
Having struck out Angel Pagan to begin the clash at AT&T Park, Cueto pulled up on his second pitch to Marco Scutaro and was replaced by a combination of Sam LeCure, Mat Latos and a trio of relievers.
The Reds went 2-0 up in the top of the third when Phillips hit a hanging breaking ball from Matt Cain over the left field fence, ending the pitcher's run of 23 1/3 postseason innings without conceding a run.
Jay Bruce made it 3-0 with another homer in the top of the fourth but Giants catcher Buster Posey reduced the deficit with a home run of his own in the bottom of the sixth.
However, the Reds added two more runs through Ryan Hanigan and Xavier Paul in the top of the ninth and, having given up a run on a wild pitch, Aroldis Chapman struck out Posey with a fastball to end the contest.
Verlander dominates
Ace pitcher Justin Verlander produced a strong showing to lead the Detroit Tigers to a 3-1 win over the Oakland Athletics in the opening game of their best-of-five American League Division series.
Verlander gave up a home run in the very first inning when Coco Crisp blasted a 347-feet homer to right field.
However, the Tigers star then began to dominate and he finished with 11 strikeouts in seven innings, giving up just three hits.
Detroit tied the game in the bottom of the first, Austin Jackson scoring from third when triple crown winner Miguel Cabrera grounded into a double play.
And the Tigers grabbed the lead in the third when Oakland starter Jarrod Parker failed to field a grounder from Quintin Berry and Omar Infante scored from third.
Catcher Alex Avila then gave the hosts a two-run cushion when he hit a 398-foot solo homer to left field in the fifth inning.