St Louis Cardinals beat Washington Nationals 8-0 in their National League Division Series
The St Louis Cardinals destroyed the Washington Nationals 8-0 to take a 2-1 lead in their NL Division Series.
Last Updated: 11/10/12 8:01am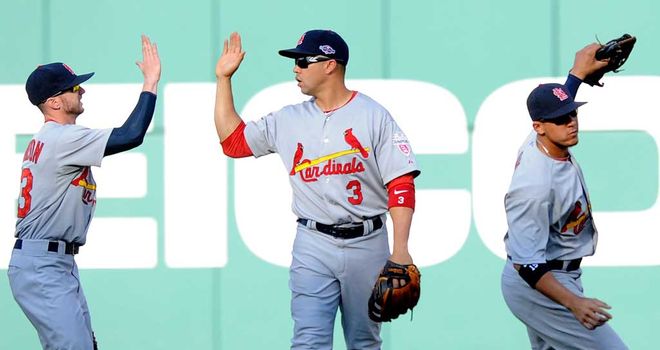 A record crowd of 45,017 turned up at Nationals Park for the first home post-season game in the nation's capital since 1933, but many of them departed early as St Louis bossed the game.
The defending World Series champions wasted little time in quietening the home crowd by scoring a run in the first innings on an Allen Craig double.
They then added three more in the second on a Pete Kozma homer into the left-field stands.
A sacrifice fly by Daniel Descalso in the sixth extended the Cardinals' advantage before Yadier Molina's bases-loaded walk an inning later made it 6-0.
Matt Holiday banged a single to left, scoring Jon Jay and Carlos Beltran, to complete the rout for St Louis who can advance to the next round with another victory at Nationals Park on Thursday.
Chris Carpenter scattered seven hits over 5-2/3 innings to get the win, while Edwin Jackson, who was with the Cardinals during their World Series run a year ago, suffered the loss.