Sky Sports' MLB preview Part 1: The stories that could shape the season
Sky Sports takes a detailed look at the stories that could shape the new campaign
By Andy Charles
Last Updated: 27/03/13 4:53pm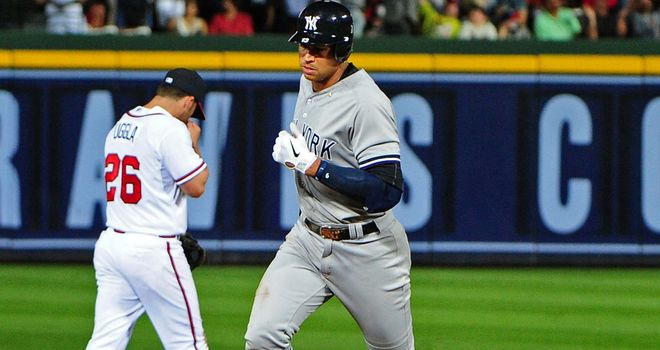 The opening pitch of the 2013 Major League Baseball season will be made on Sunday at an historic clash between the Houston Astros and Texas Rangers.
Six months of regular season games follow and all 30 teams will fancy their chances of a place in the play-offs and a chance at reaching the World Series, won in stunning fashion last season by the San Francisco Giants.
Stories to look out for:
Alex Rodriguez: A-Rod is one of the most famous names in baseball but it appears his time is almost up. Rodriguez has 642 home runs to his name but is almost as well known for the size of his free agent contracts (the Yankees paid $252m to sign him in 2007) and his tearful confession to using steroids a few years ago.
Now 37, the third baseman had offseason hip surgery which will keep him out until the All-Star break and there have been implications of his involvement in the MLB probe of the Biogenesis clinic that allegedly distributed performance-enhancing drugs to baseball players. Any more black marks on his resume could mean a sad end to a career that should really be applauded.
Houston into the AL: Why will Opening Day will be historic? It's all down to a change in divisional structure. Until this season there have been a couple of divisions with irregular numbers, but now we have a nice round five teams in all six divisions.
The Astros make the move from the NL Central to the AL West after going 55-107 in 2012, the worst record in the major leagues by some way. Will the move make it any easier? Probably not! The AL West was one of the toughest divisions last season and features at least three teams that will really like their chances of winning the World Series.
Interleague overload: There used to be tranches of interleague games spread through the season, but now we have 15 teams in each league there will be interleague play almost every day in 2013. However, the more traditional rivalries (Yankees-Mets and White Sox-Cubs for example) are cut from six games per season to four.
World Baseball Classic hangover: Many teams are keen for their players to avoid this international competition, with stats dipping for a number of stars to have gone to previous editions. This season's event, won by the Dominican Republic, also included a couple of high-profile injuries with the Dodgers losing shortstop Hanley Ramirez for the first eight weeks of the season to a nasty thumb injury that required surgery.
Hall Of Shame? There will be no players inducted into Cooperstown in 2013 despite the ballot including some of the sport's biggest names; Barry Bonds, Roger Clemens and Sammy Sosa to name but three.
Undoubted legends of the sport, but their names are also intrinsically linked to the steroid scandals that have dogged baseball over the last 20 years, and some analysts are now wondering whether the people that turned away from the sport because of it will ever come back.
Rule changes: Nothing too massive this season although there will be some foreign pitchers happy to know that they can now have an interpreter on the mound when their manager or pitching coach strides over from the dugout with some new instructions.
There will also be seven coaches (not six) suited up in the dugout. Some teams had asked for an extra place as they hired varying assistant (mainly hitting) coaches. Wish granted.
One play has also been outlawed. A trick move by a pitcher who would fake a throw to third and then try to pick off a runner at first base will now be deemed a balk, which generally sees each runner advance one base. It wasn't a play that often worked but being outlawed might help speed things up a little.