The final part of Sky Sports' Major League Baseball preview looks at the contenders the National League
The final part of Sky Sports' Major League Baseball preview looks at the contenders the National League
Last Updated: 27/03/13 4:31pm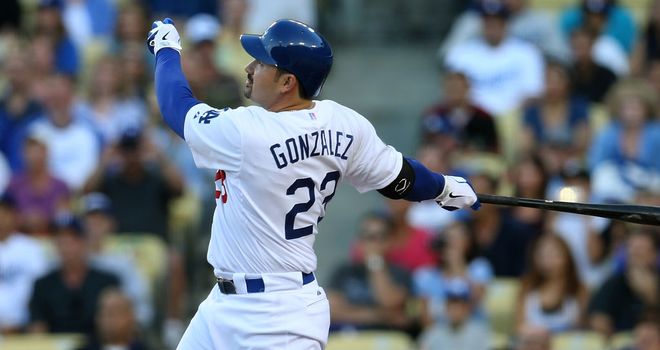 National League East: An intriguing division this season, although it could again come down to a two-horse race as the Washington Nationals and Atlanta Braves have both improved over the winter.
Washington's pitching was brilliant in 2012 and the additions of Dan Haren and Rafael Soriano are further boosts, but will their line-up again get the runs they need to win enough games 2-1 and 3-2 like last year? Atlanta's improvements are designed to test them with BJ and Justin Upton sure to bring them an offensive spark that lacked at times last season.
Philadelphia were huge disappointments last season but don't count them out with some injured stars coming back. It will be a long, hard season for the New York Mets and especially the Miami Marlins, whose roster has been torn to shreds.
Predictions: Braves edge out the Nationals for top spot, but both go into the play-offs.
National League Central: Spring Training troubles for the Cincinnati Reds shouldn't continue into the regular season and they will fancy their chances of repeating last season's divisional pennant.
The addition of Shin-Soo Choo to their outfield is a boost and they are solid at the top of the rotation - and in the bullpen now that Aroldis Chapman is staying put. There is strong competition, though, especially from the St Louis Cardinals. They were World Series winners in 2011 but look to be a couple of pitchers short of a title with Chris Carpenter possibly finished and lights-out closer Jason Motte injured just before the season opener.
They should be on the verge of the wildcard race, but there is no room for a prolonged slump with the Milwaukee Brewers looking to break back in and the Pittsburgh Pirates hoping to prolong their decent start in 2012 through to the end of a season for the first time in a long while.
Predictions: Reds have the pitching depth to see out the season and the Cubs avoid back-to-back 100-loss seasons.
National League West: Is it time for a third different division champion in three seasons? Arizona looked great in 2011 and struggled last season, while the Giants went all the way in 2012. Now it could be the Los Angeles Dodgers' chance.
They have new ownership (including NBA legend Magic Johnson) and have splashed out on leading free agents in outfielder Carl Crawford and starting pitcher Zack Greinke.
They finished eight games off the Giants last year but their additions should close the gap and could make the difference between merely going to the play-offs and winning the West. San Francisco will need a massive season from their rotation, which is among the league's best, as their power hitting is lacking and the potential loss of Pablo Sandoval with an elbow problem is unsettling.
Brandon Belt has been raking during the spring and will need to continue. They are a similar team to the Diamondbacks in terms of make-up and there could be a lot of 1-0 and 2-1 games in divisional play with the pitching across the board looking tough.
Chase Headley's early-season absence makes life hard for the San Diego Padres and the sleeper team could be the Colorado Rockies if shortstop Troy Tulowitzki is fully recovered from his 2012 groin injury. They have the second best line-up in the division but as ever their pitching in the rarefied air of Coors Field will probably struggle.
Predictions: Dodgers are going all the way and don't sleep on the Rockies - they will get to the play-offs one year and could be ready now.
Overall predictions:
AL division winners: Toronto, Detroit, LA Angels. Wildcards: Chicago White Sox, Oakland
NL division winners: Atlanta, Cincinnati, LA Dodgers, Wildcards: Washington, Colorado
World Series: Detroit v LA Dodgers. Winners: Dodgers in six games.