MLB: Atlanta Braves continue winning streak with 8-0 rout of Miami Marlins
The Atlanta Braves continued their winning streak at the start of the MLB season with an 8-0 rout of the Miami Marlins.
Last Updated: 11/04/13 7:51am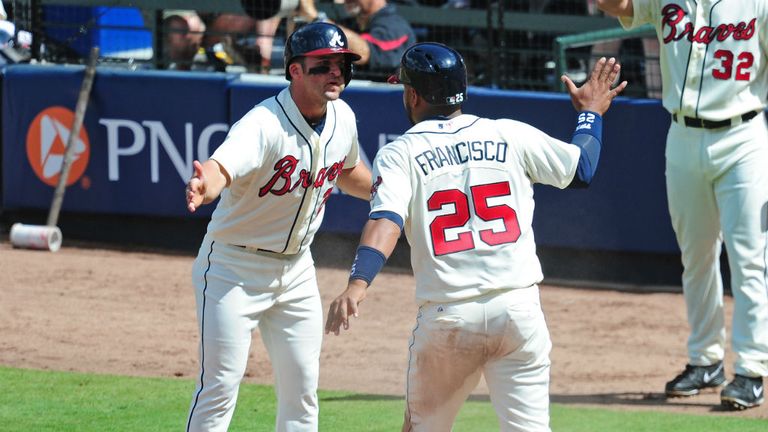 Six runs came in the fifth inning, five from homers by Evan Gattis and Juan Francisco, as Atlanta won for the eighth time in nine games.
They lead the National League East ahead of the Washington Nationals, who beat the Chicago White Sox 5-2, and the New York Mets, beaten 7-3 on Wednesday by divisional rivals the Philadelphia Phillies.
NL Central pace-setters the Cincinnati Reds and St Louis Cardinals met at Busch Stadium, with St Louis storming to a 10-0 win as Jake Westbrook pitched a complete game shutout and his side's batters racked up four home runs in the fifth and sixth innings.
The Arizona Diamondbacks and San Francisco Giants each recorded their sixth win of the season to share the lead in the NL West.
Barry Zito pitched seven scoreless innings and Buster Posey batted in three runs as the Giants beat the Colorado Rockies 10-0.
Arizona won 10-2 against the Pittsburgh Pirates, led by two long balls from AJ Pollock.
Dodgers victorious
The Los Angeles Dodgers were another NL West team to win, 4-3 against the San Diego Padres.
In the American League, the Baltimore Orioles beat the Boston Red Sox 8-5 to move only one win behind in the East Division. Chris Davis and Manny Machado homered in a five-run final inning, Machado's three-run blast proving decisive.
Two more of the division's teams enjoyed victories, with the Toronto Blue Jays beating the Detroit Tigers 8-6 while the Tampa Bay Rays upset the in-form Texas Rangers 2-0.
That left Texas a game behind the Oakland Athletics, who beat the Los Angeles Angels 11-5, Brandon Moss batting in five runs.
The Kansas City Royals beat the Minnesota Twins 3-0 with homers from Billy Butler and Jeff Francoeur, while the Houston Astros beat the Seattle Mariners 8-3.
Two games fell victim to the weather, with the Cleveland Indians unable to host the New York Yankees due to rain and fearing the same fate for tomorrow's repeat fixture.
The Chicago Cubs' game against the Milwaukee Brewers was also called off, with rain and freezing temperatures forecast, and will be played on July 30 as part of a double-header.