MLB: LA Dodgers' Zack Greinke breaks collarbone in Padres brawl
Dodgers pitcher Zack Greinke broke his left collarbone during a chaotic bench-clearing brawl with the San Diego Padres.
Last Updated: 12/04/13 12:06pm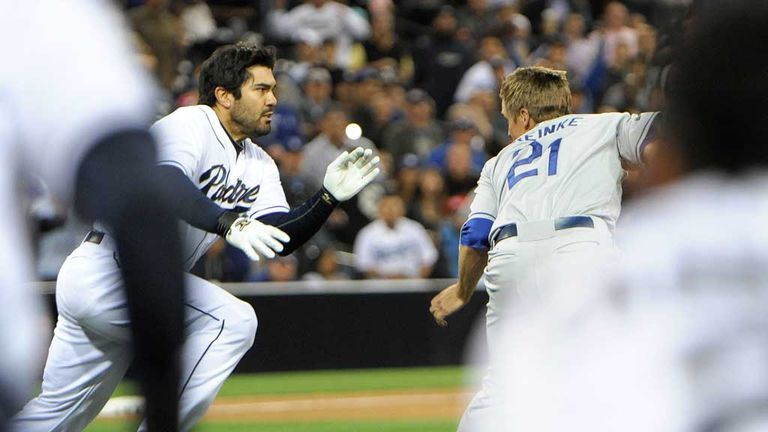 The Dodgers won 3-2, Juan Uribe's pinch-hit home run in the eighth putting the Dodgers ahead, two innings after Greinke hit Carlos Quentin on the left shoulder with a pitch.
The slugger started walking toward the mound and Greinke appeared to say something. Quentin then charged the 2009 American League Cy Young pitching award winner and the pair dropped shoulders and collided.
They ended up at the bottom of a huge pile of bodies as players from both sides ran onto the field and jumped in.
When they were finally pulled apart, Quentin was led off the field by team-mate Mark Kotsay and Greinke was checked by a trainer and manager Don Mattingly before walking off toward the Dodgers' dugout.
The drama did not stop there. After the teams started going back to the dugouts and bullpens, Jerry Hairston Jr. came running across the field shouting and pointing at someone in the San Diego dugout and had to be restrained.
Dodgers slugger Matt Kemp also was livid, perhaps in part because Padres starter Jason Marquis threw a high-and-tight pitch to him in the first inning.
The benches and bullpens emptied again, leading to a further bout of pushing and shoving. Quentin, Kemp and Hairston were ejected.
After play resumed, Alexi Amarista pinch-ran for Quentin, advanced on a wild pitch and scored on Yonder Alonso's single to tie the game.
Uribe homered to left on a 3-2 pitch from Luke Gregerson (1-1) with one out in the eighth to give the Dodgers a 3-2 lead they never relinquished.