MLB: Albert Pujols sees LA Angels to 5-4 win over Houston Astros
The Los Angeles Angels ended a five-game losing streak with a come-from-behind 5-4 win over the Houston Astros.
Last Updated: 14/04/13 7:28am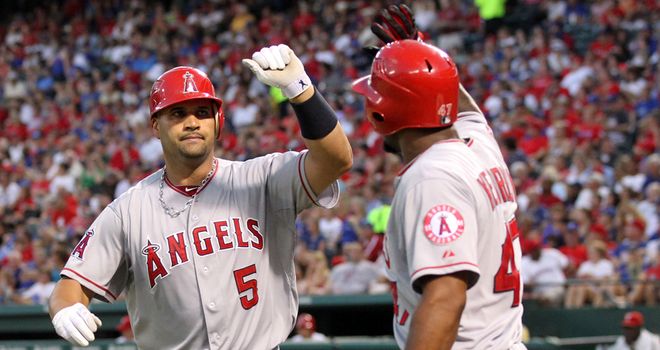 Albert Pujols belted a two-run double in the bottom of the ninth inning to secure victory for the big-spending Angels, who went into the game tied for the worst record in the major leagues.
They looked to be in trouble again when Chris Carter launched a two-run home run off Garrett Richards, in the Angels rotation for the injured Jered Weaver, in the top of the fourth.
Josh Hamilton finally got his first homer in an Angels uniform in the sixth, but Houston led 4-1 after seven innings and looked to be on their way to a second straight win over their new AL West divisional rivals.
But their bullpen cracked over the last two innings, not helped by a fielding error by J.D. Martinez, and the Angels picked up two runs in the eighth to ensure a tense finale.
And it was Pujols who came through in the ninth, with the Angels' final out of the game, doubling to left off Astros closer Jose Veras to plate Luis Jimenez and Mike Trout for the winning runs.
Matt Harvey continued his fine start to the season for the New York Mets, winning his third straight start in a 4-2 victory over the Minnesota Twins.
Harvey no-hit the soft-hitting Twins line-up for seven innings, eventually striking out six in eight innings of one-run ball to move to 3-0 with a minuscule 0.82 ERA.
Adam Wainwright was also in stellar form for the St Louis Cardinals, pitching a complete game shutout as they saw off the Milwaukee Brewers 8-0.
Wainwright scattered four hits over nine innings and struck out 12 for his second win of the fledgling season, with the Cardinals breaking the game wide open in the sixth innings - seven runs came on seven singles, a hit by pitch and an error.
And the Atlanta Braves became the first team this season to reach double figures in victories as they beat Washington 3-1.
Catcher Evan Gattis was their hero with a two-run homer - his third of the season - causing most of the damage as Tim Hudson pitched seven scoreless innings for his second win of 2013.