MLB: Boston Red Sox pitcher John Lackey claims his first win since 2011
John Lackey guided the Boston Red Sox to a four-game sweep of the Houston Astros with a 6-1 victory at Fenway.
Last Updated: 29/04/13 7:02am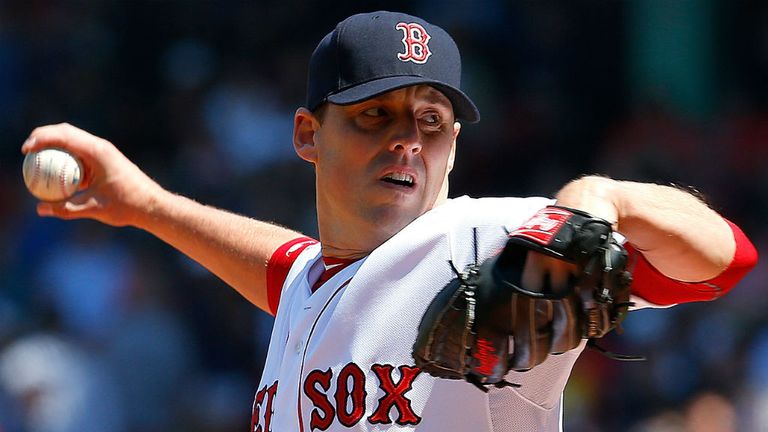 Lackey claimed his first win since 2011 having missed all of last season because of reconstruction surgery on his elbow, striking out four while allowing five hits and walking two.
David Ortiz and Stephen Drew led the Boston offence with two RBIs apiece as Boston moved to a league best 18-7.
Brennan Boesch and Lyle Overbay homered off RA Dickey as the New York Yankees moved second in the American League East with a 3-2 win over the Toronto Blue Jays.
Overbay's go-ahead two-run bomb in the seventh gave the Yankees a four-game sweep of the Blue Jays, their first since 1995.
David Price's first win of the season was overshadowed by a heated exchange with home plate umpire Tom Hallion as the Tampa Bay Rays beat the Chicago White Sox 8-3.
Price struck out nine in seven innings, allowing three runs on six hits, but then seemed to argue with Hallion as he exited the game. Jose Lobaton and Matt Joyce each had a home run for the Rays.
Clayton Kershaw pitched eight scoreless innings and Carl Crawford homered twice to give the Los Angeles Dodgers a 2-0 win over the Milwaukee Brewers. Kershaw struck out 12 and at one stage retired 18 straight batters.
Jeff Locke hurled seven shutout frames to lift the St Louis Cardinals to a 9-0 win over the St Louis Cardinals. Locke was backed by two home runs from Russell Martin and one each from Jose Tabata and Garrett Jones.
Kevin Correia had eight scoreless innings to lift the Minnesota Twins to a 5-0 win over the Texas Rangers, while home runs from Jason Bay and Michael Morse gave the Seattle Mariners a 2-1 win over the Los Angeles Angels.
Jeremy Guthrie threw 6 2/3 scoreless innings as the Kansas City Royals beat Cleveland 9-0 in game one of their double-header, but Mike Aviles drove in five to help the Indians gain revenge with a 10-3 win in game two.
Chase Headley had three hits and a home run to lead the San Diego Padres to a 6-4 win and a three-game sweep of the San Francisco Giants, while Giancarlo Stanton went yard twice as the Miami Marlins beat the Chicago Cubs 6-4.
Tony Cingrani struck out four in one innings and 11 overall to lead the Cincinnati Reds to a 5-2 victory over the Washington Nationals, while Miguel Cabrera's three-run homer helped the Detroit Tigers to an 8-3 win and a three-game sweep of the Atlanta Braves.
The Oakland Athletics beat the Baltimore Orioles 9-8 in 10 innings, the Arizona Diamondbacks were 4-2 winners over the Colorado Rockies and the Philadelphia Phillies overcame the New York Mets 5-1.