Boston Red Sox come from behind to beat Minnesota Twins 6-5
Stephen Drew starred as the Boston Red Sox rallied for a 6-5 11-inning win over the Minnesota Twins.
Last Updated: 07/05/13 7:20am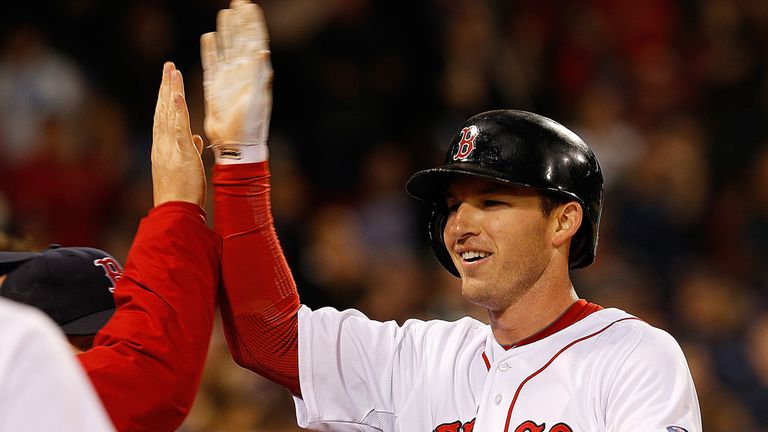 The shortstop was batting .182 heading into the game, but led a Boston offence which also got homers from Shane Victorino, his first for the Red Sox, and Dustin Pedroia, his first of the season.
Minnesota led 3-0 and 4-1 before falling 5-4 behind in the eighth, but they forced extras when Brian Dozier homered off Boston closer Joel Hanrahan, who subsequently exited the game with tightness in his forearm.
The game between the Chicago White Sox and the Kansas City Royals also went to 11 innings, with Jordan Danks winning it for the South Siders on a two-out solo shot.
Danks had earlier been caught in a rundown to end a ninth-inning rally by the White Sox, who forced extras on Alexei Ramirez's RBI single.
JP Arencibia smacked a two-run shot in the ninth as the Toronto Blue Jays surged from seven runs down to beat the Tampa Bay Rays 8-7.
Evan Longoria's grand slam helped the Rays establish their healthy advantage, with all seven runs coming in the third, but Colby Rasmus and Mark DeRosa went yard as the Blue Jays stormed back.
Asdrubal Cabrera hit two homers to lift the Cleveland Indians to a 7-3 win over the Oakland Athletics.
Mark Reynolds also connected for a bomb that was measured at 460 feet.
Scott Feldman hurled seven shutout innings and Anthony Rizzo homered to give the Chicago Cubs a 9-2 win over the Texas Rangers.
Andrew Cashner threw 7 1/3 scoreless frames in the San Diego Padres' 5-0 win over the Miami Marlins.
Andrelton Simmons homered twice as the Atlanta Braves beat the Cincinnati Reds 7-4, the Arizona Diamondbacks beat the Los Angeles Dodgers 9-2 and the Philadelphia Phillies overcame the San Francisco Giants 6-2.