MLB: Colorado Rockies end drought with emphatic win over St Louis Cardinals
Troy Tulowitzki ended Colorado's streak of 28 scoreless innings in style as the Rockies beat the St Louis Cardinals.
Last Updated: 13/05/13 5:37am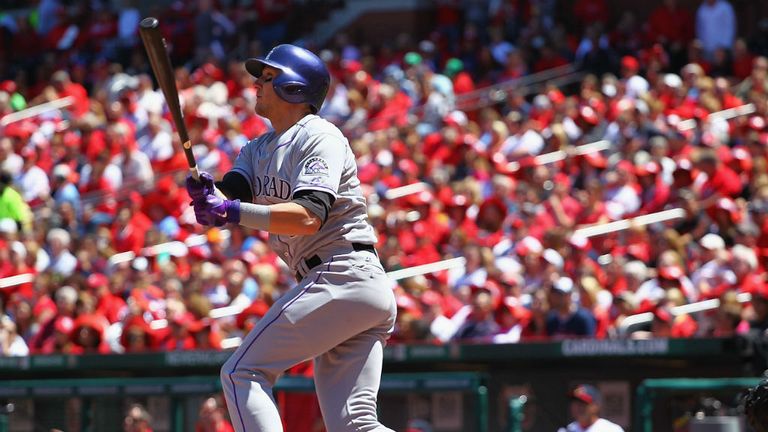 Following back-to-back shutouts from Shelby Miller and Adam Wainwright, the Colorado offence finally broke out for five runs off Jaime Garcia and three off reliever Carlos Martinez.
Charlie Blackmon also homered for Colorado, while the Cardinals got a taste of their own medicine from Rockies starter Jorge De La Rosa, who pitched seven scoreless innings.
Chris Sale inspired the Chicago White Sox's 3-0 win over the Los Angeles Angels.
Sale retired 19 straight and struck out seven in an efficient 98 pitches - with Mike Trout hitting a single to become the Angels' only baserunner of the game.
Alexei Ramirez spearheaded the White Sox offence with three hits and two RBI, with all three of the team's runs coming in the seventh off Angels starter CJ Wilson, who had himself thrown six scoreless innings to that point.
Sweep
Adrian Beltre drove in four on as many hits including a three-run homer as the Texas Rangers beat the Houston Astros 12-7 to complete a three-game sweep, while Vernon Wells got his second homer in as many days to lift the New York Yankees to their fifth straight win, 4-2 over the Kansas City Royals.
Tim Lincecum pitched seven shutout innings to lift the San Francisco Giants to a 5-1 win over the Atlanta Braves, while Jose Bautista homered twice as the Toronto Blue Jays used the long ball to crush the Boston Red Sox 12-4.
Don Lutz cracked a three-run shot for his first career home run as the Cincinnati Reds overcame the Milwaukee Brewers 5-1, while Mark Reynolds pinch hit a game-winning RBI single to give the Cleveland Indians a 4-3 win over the Detroit Tigers in 10 innings.
Chris Davis, Adam Jones and Steve Pearce all homered in the Baltimore Orioles' 6-0 win over the Minnesota Twins, the Tampa Bay Rays completed a three-game sweep of the San Diego Padres with a 4-2 win, the Seattle Mariners were 6-1 winners over the Oakland Athletics and the Chicago Cubs beat the Washington Nationals 2-1.
The Philadelphia Phillies overcame the Arizona Diamondbacks 4-2 in 10 innings, the Pittsburgh Pirates edged out the New York Mets 3-2 and the Los Angeles Dodgers saw off the Miami Marlins 5-3.